A kitchen is never complete without a good set of knives. Every professional chef and home cook knows the importance of having the right tools for preparing various dishes. One such essential tool is the kitchen knife, which comes in various types to cater to different needs and cutting techniques.
There's a wide array of kitchen knives available in the market, each designed to perform specific tasks. This article aims to provide a comprehensive guide to different types of kitchen knives, their uses, and how to choose the right one for your culinary needs. We'll also explore various materials and construction techniques to give you a better understanding of what makes a great kitchen knife.
So, are you ready to discover the fascinating world of kitchen knives? Let's dive in and explore the ins and outs of these indispensable culinary tools to help you make informed decisions and elevate your cooking skills.
The Anatomy of a Kitchen Knife
Understanding the basic structure of a kitchen knife is crucial in selecting the right knife for your needs. Let's break down the components of a typical kitchen knife:
Blade
The blade is the cutting part of the knife, made of various materials such as stainless steel, carbon steel, ceramic, or Damascus steel. The blade's shape, size, and edge determine its suitability for specific tasks.
Tang
The tang is the part of the blade that extends into the handle, providing balance and stability. Knives with full tangs are considered more durable and well-balanced compared to partial tangs.
Handle
The handle provides grip and control while using the knife. It can be made from different materials, such as wood, plastic, or metal. Ergonomic handles with good grip ensure comfort and safety during use.
Bolster
The bolster is the thick part of the blade where it meets the handle, providing extra weight and balance. It also serves as a finger guard to prevent accidents during use.
Different Types of Kitchen Knives
Chef's Knife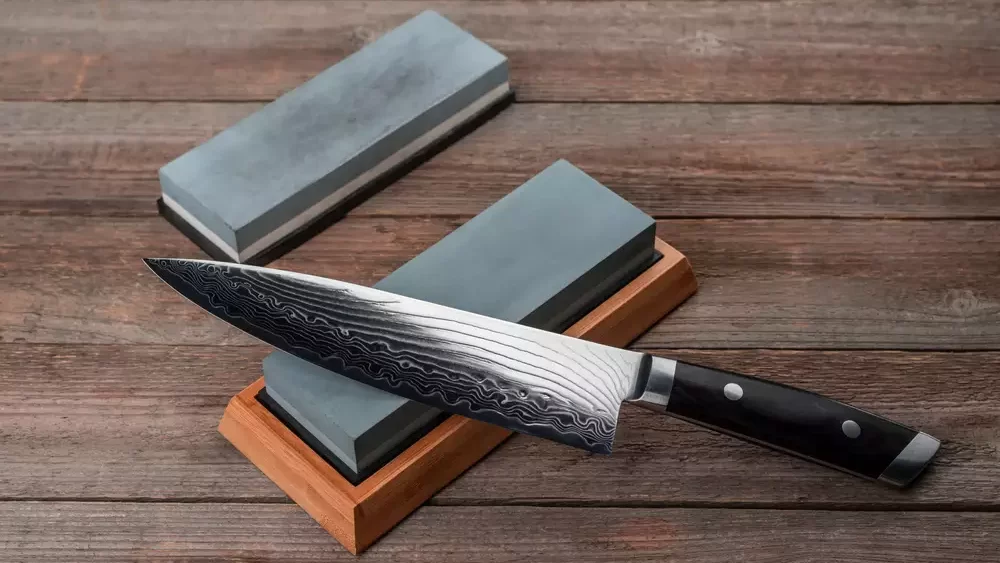 Uses
The chef's knife is the most versatile and commonly used kitchen knife. It's perfect for slicing, dicing, chopping, and mincing various ingredients, such as fruits, vegetables, and meats.
Variations
Chef's knives come in different sizes, typically ranging from 6 to 12 inches. The choice depends on the user's preference and comfort.
How to choose the right chef's knife
Select a chef's knife with a comfortable handle, good balance, and a sharp, sturdy blade. Consider the size that best suits your hand and cutting technique.
Paring Knife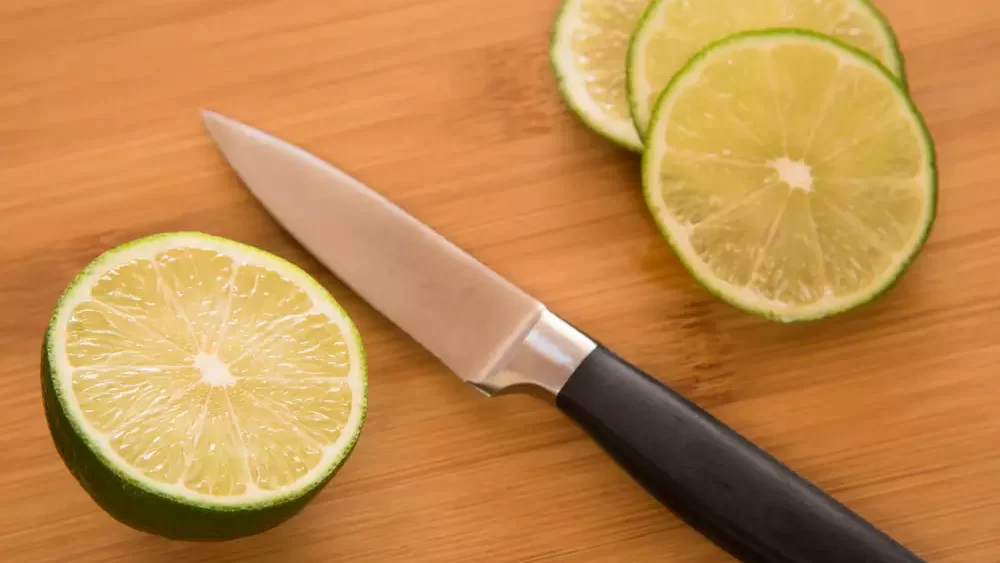 Uses
A paring knife is perfect for intricate tasks such as peeling, trimming, and deveining shrimp. Its small size and sharp blade allow for precision and control.
Variations
Paring knives come in various blade shapes, including spear point, bird's beak, and sheep's foot. The choice depends on the specific tasks you intend to use it for.
How to choose the right paring knife
Select a paring knife with a comfortable handle and a sharp, sturdy blade. Consider the blade shape that best suits your needs and the tasks you perform most frequently.
Santoku Knife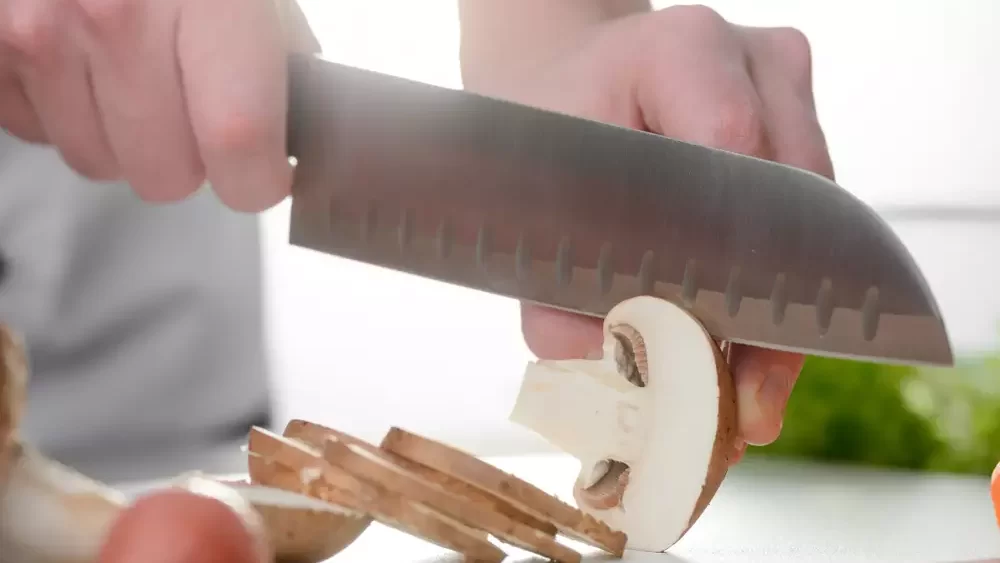 Uses
A Santoku knife is a Japanese all-purpose knife, suitable for slicing, dicing, and chopping. Its shorter, wider blade and hollow-ground edge make it ideal for precise cuts and easy food release.
Variations
Santoku knives typically range from 5 to 7 inches in length.
How to choose the right Santoku knife
Select a Santoku knife with a comfortable handle, a sharp blade, and a size that suits your needs and cutting technique.
Carving Knife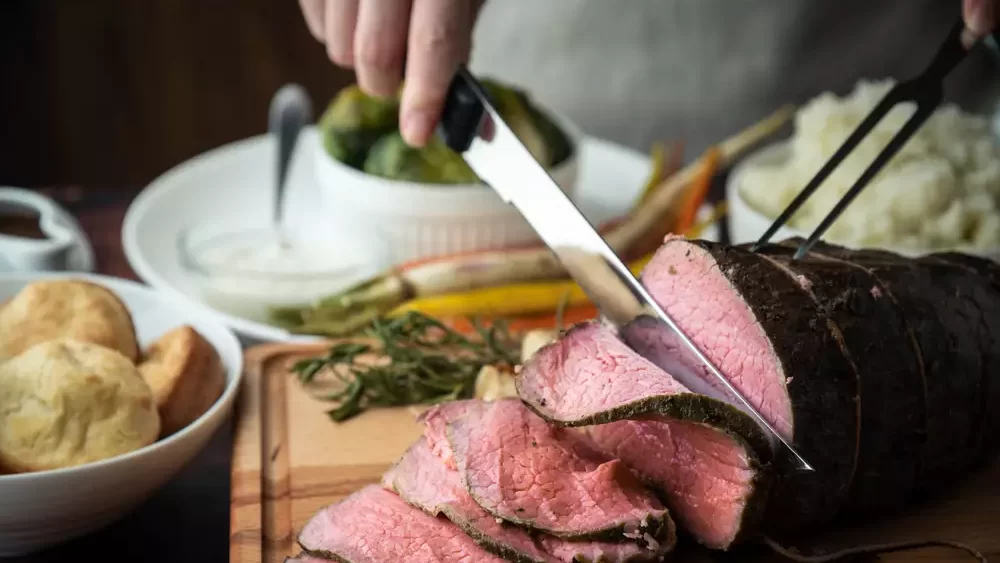 The carving knife is used for slicing cooked meats, poultry, and fish. It has a long blade that makes it easy to cut through bones and joints with little effort.
A Carving Knife features an elongated blade that makes it more suitable for carving tasks than other knives such as paring or butcher's, which tend to be too short of cutting through things such as joints and bones.
The blade itself is usually made out of stainless steel with serrated edges, so food won't stick while slicing through whatever type of meat you're cooking up
Utility Knife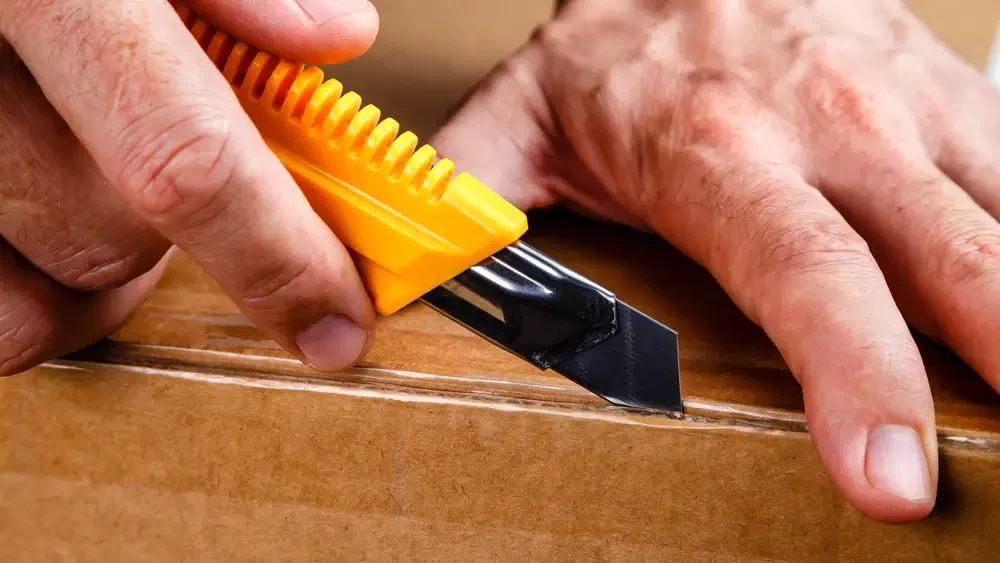 Uses
A utility knife is a versatile tool that falls between a chef's knife and a paring knife in size. It's ideal for slicing, chopping, and trimming smaller fruits, vegetables, and meats.
Variations
Utility knives can have straight or serrated edges, and their lengths usually range from 4 to 7 inches.
How to choose the right utility knife
Select a utility knife with a comfortable handle, a sharp blade, and a size that suits your needs. Consider whether a straight or serrated edge is more appropriate for the tasks you frequently perform.
Bread Knife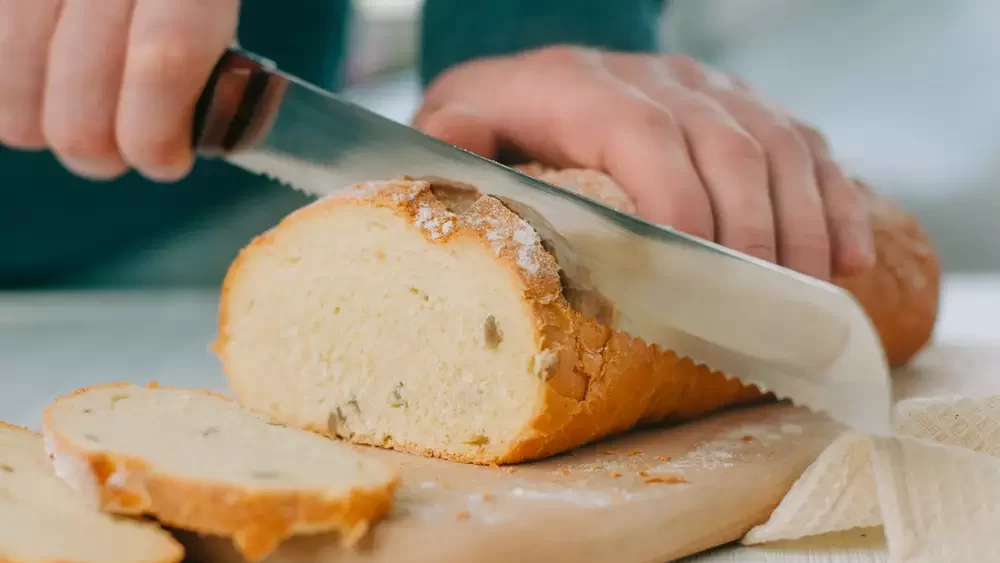 Uses
A bread knife is designed to cut through bread, cakes, and pastries with ease. Its serrated edge allows for smooth, clean cuts without crushing or tearing.
Variations
Bread knives typically come in sizes ranging from 8 to 10 inches. The choice depends on the size of the bread or baked goods you usually cut.
How to choose the right bread knife
Choose a bread knife with a comfortable handle, sharp serrated edges, and a length suitable for the types of bread and pastries you commonly handle.
Serrated Utility Knife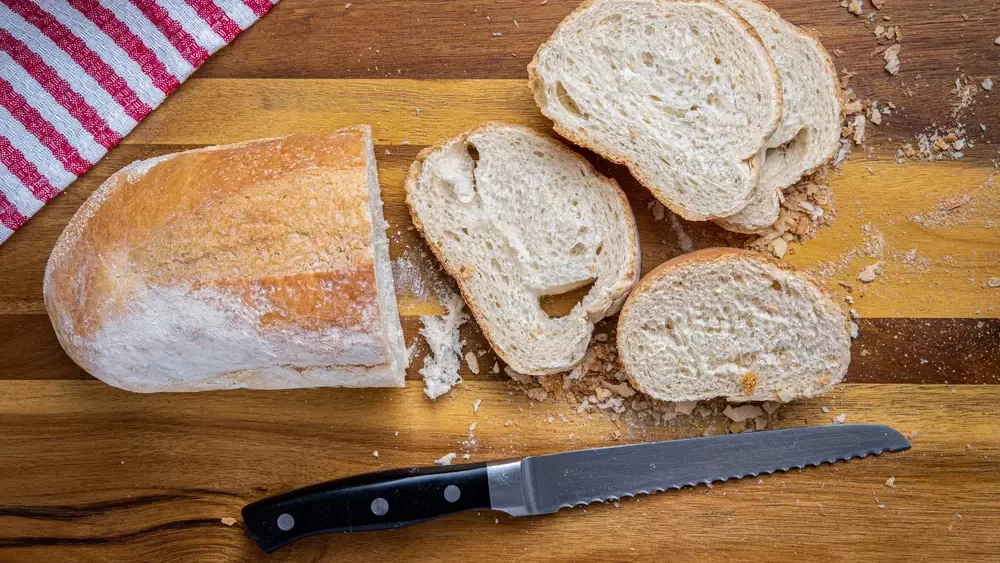 Uses
A serrated utility knife is a versatile tool for cutting through foods with tough exteriors and soft interiors, such as tomatoes, sausages, and sandwiches.
Variations
Serrated utility knives usually have blade lengths between 5 and 6 inches.
How to choose the right serrated utility knife
Choose a serrated utility knife with a comfortable handle, a sharp serrated blade, and a size that suits your needs.
Butter Knife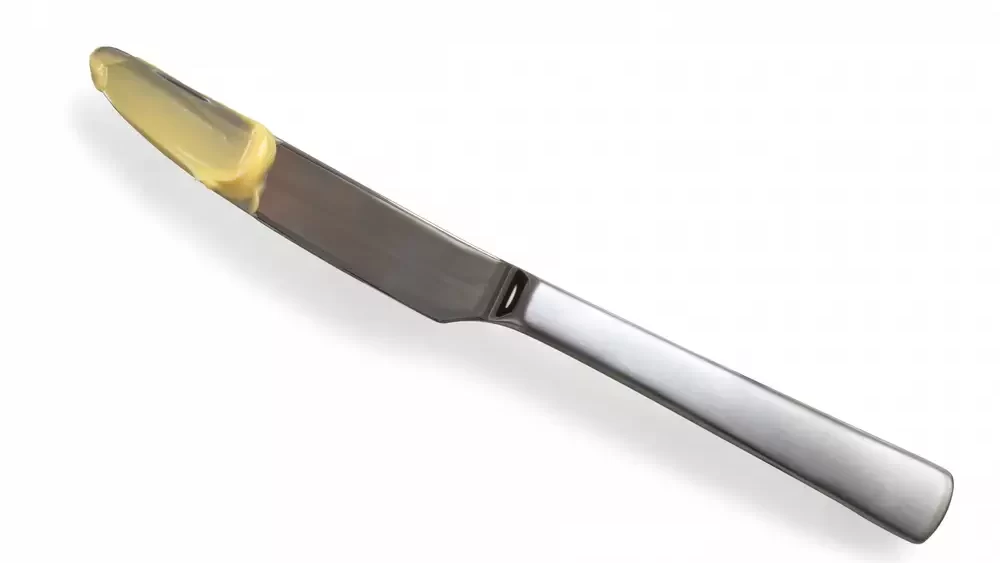 When it comes to the butter knife, you can't beat a classic. This thin but wide blade makes for easy 'Spreading' of jams and preserves on fresh-baked rolls as well as just about any other task where precision isn't necessary.
This is a great kitchen tool that is perfect for both working in your kitchen and at home. It is a comfortable size and length to fit most hands, has a non-slip grip on the handle, and comes with a safety ring that keeps fingers safe from hot water when washing it.
Cleaver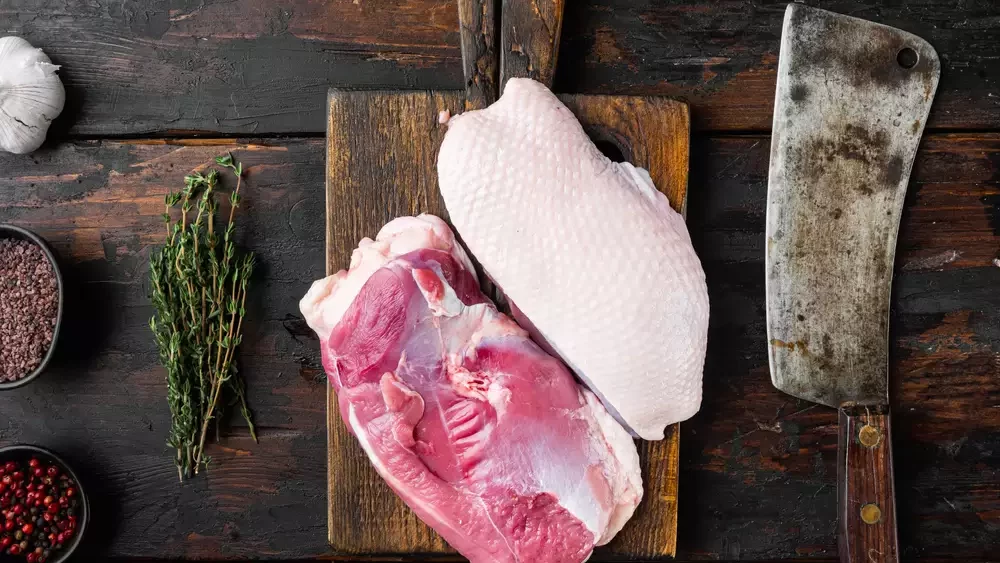 Uses
A cleaver is a heavy-duty knife with a broad, thick blade, designed for chopping through bones, hard vegetables, and frozen foods.
Variations
Cleavers come in different sizes and weights, depending on their intended use.
How to choose the right cleaver
Choose a cleaver with a comfortable handle, a durable blade, and a size and weight that suits your needs and cutting tasks.
Slicing Knife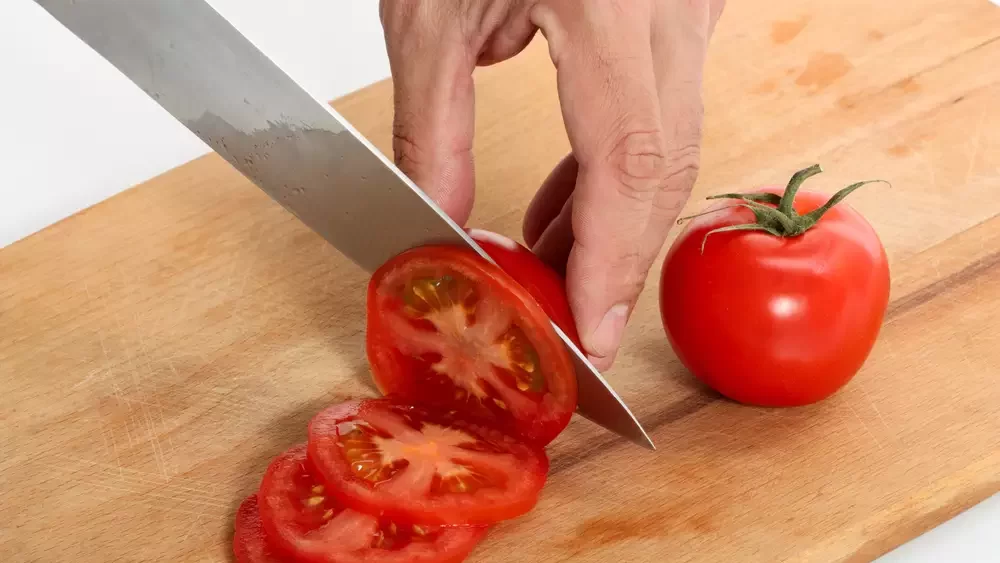 The most versatile kitchen knife, the slicing knife, can cut up vegetables to make julienne fries. I like plain edge blades as they make cleaner cuts in large roasts or fish, but if you prefer something that looks more impressive, then serrated edges will do just fine too
Carbon steel blades retain their edge better than stainless models and are easier to sharpen, but they will rust if not correctly cared for. If you have the time and patience, then a carbon-steel knife is the way to go.
Boning Knife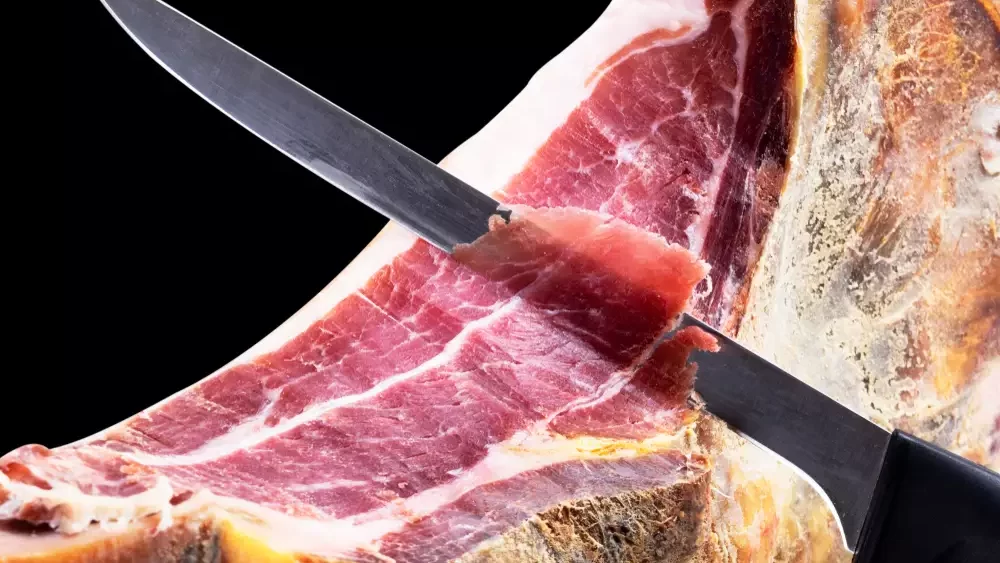 Uses
A boning knife is specifically designed for removing bones from meat, poultry, and fish. Its narrow, flexible blade allows for precise cuts and easy maneuvering around bones.
Variations
Boning knives come in different levels of flexibility and blade lengths, typically between 5 and 6.5 inches.
How to choose the right boning knife
Choose a boning knife with a comfortable handle, a sharp blade, and the appropriate level of flexibility for the meats you usually work with.
Fillet Knife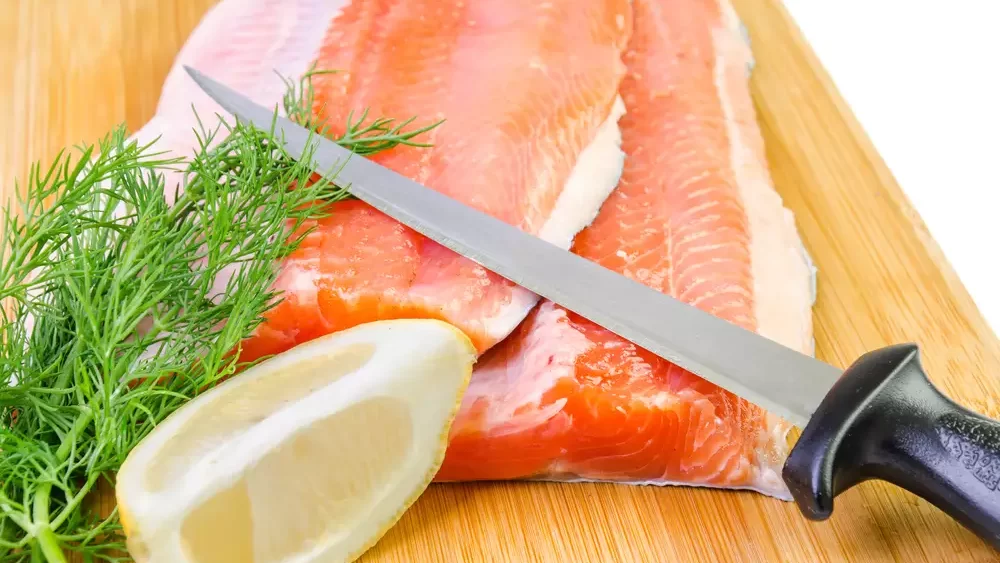 Uses
A fillet knife is designed for filleting fish, with its long, thin, flexible blade allowing for precise cuts and easy maneuvering around bones.
Variations
Fillet knives come in different levels of flexibility and blade lengths, typically between 6 and 10 inches.
How to choose the right fillet knife
Select a fillet knife with a comfortable handle, a sharp blade, and the appropriate level of flexibility and length for the types of fish you commonly fillet.
Nakiri Knife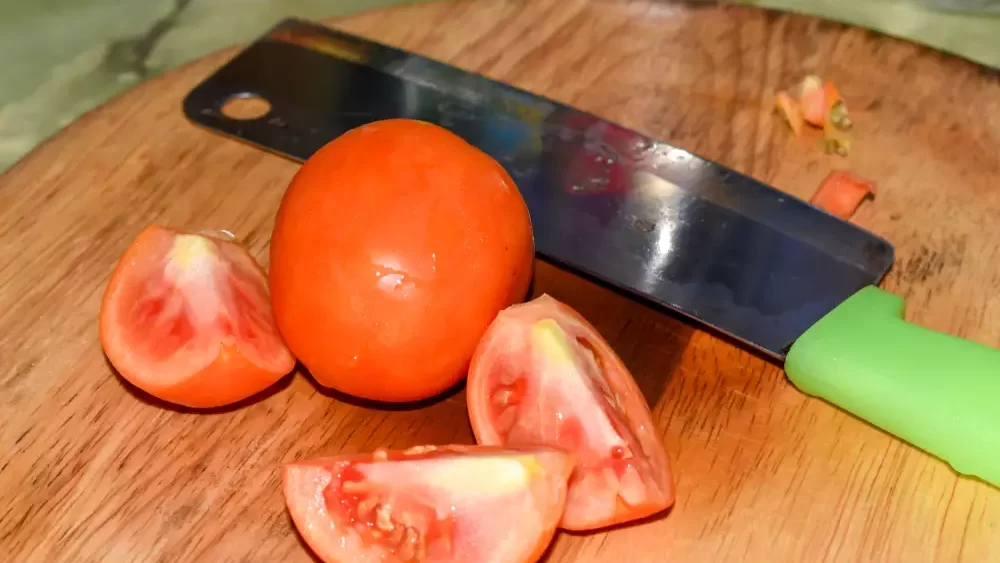 Uses
A Nakiri knife is a Japanese knife designed for chopping and slicing vegetables, with its thin, straight blade allowing for clean, even cuts.
Variations
Nakiri knives typically have blade lengths between 6 and 7 inches.
How to choose the right Nakiri knife
Select a Nakiri knife with a comfortable handle, a sharp blade, and a size that suits your needs and cutting technique.
Mezzaluna
The mezzaluna knife is popular Italian cooking essential for those who love chopping and mincing without much effort. The curved blade makes it easy to use, and it's perfect for putting on a cutting board or counter.
Garlic can be challenging to shop sometimes, but this knife makes it more accessible.
Steak Knife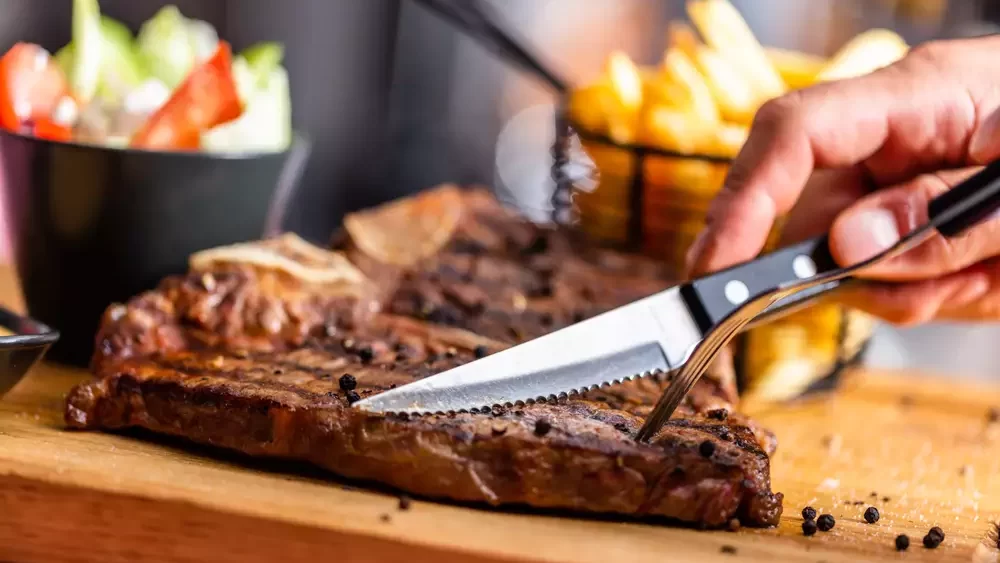 If there is one knife that you'll find in modern place settings, it's the steak knife. They're used for cutting — well, of course—steak and other meats like pork or chicken breasts with their long blades usually measuring around 4 inches (10 cm).
Two types of steel can make knives- stainless steel and composite material. I prefer a more traditional knife with a ceramic-stone coated blade. This type of blade is less likely to scratch my pots if I'm not careful when cooking, and it provides good results.
Cheese Knives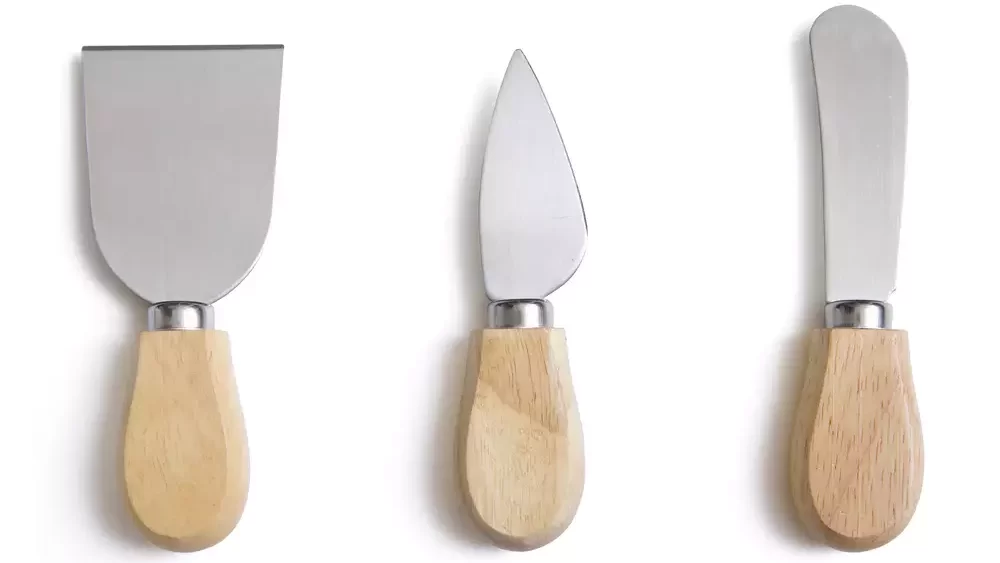 When it comes to cutting fine cheeses, there are a variety of textures and styles that need special attention. For instance:
Soft Cheese Knives: These blades have holes along their centerline, so you won't get any cheese on your knife while making an elegant slice for yourself or someone else
Harder Cheese knives: Hard cheese knives have a tip to spear any hard cheeses. It also has a sharp edge, making it easy to cut soft cheeses
Parmesan Cheese knives: You'll want to use a parmesan knife when you cut into the hardest of hard cheese because it will help you slice through them with ease.
Clam Knife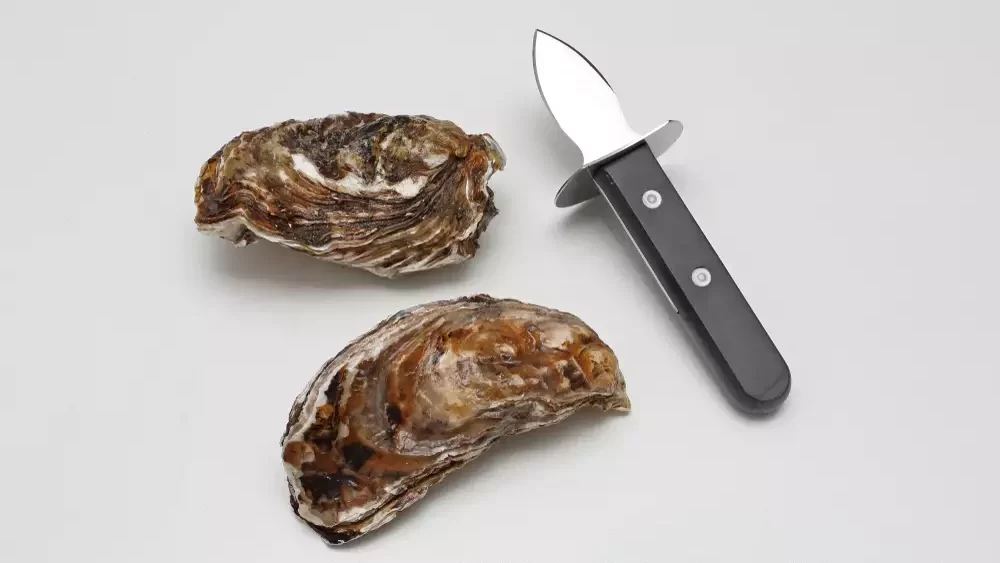 Different types of clam knives can help you remove the meat from mussels. You can choose a knife with a short blade and a sleek metal handle to make cutting easier. 
You can also choose a longer-handled model if you need to make deep cuts or if you want something more versatile. Another option is a sharp knife with both sharp edges and notches, which will keep the mussel open after cutting.
Deli Knife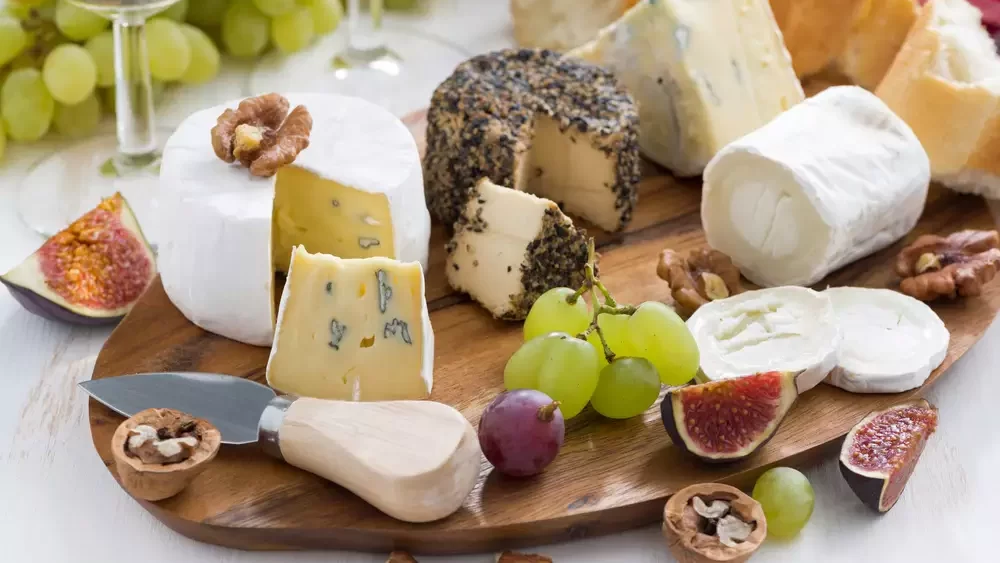 A deli knife is your best bet when it comes to cutting through thick sandwiches. These knives have rounded serration that allows for less food absorption and produces the traditional "delicious" sandwich you see on restaurant menus every day
The materials used in these utensils can vary depending on the eatery they are being used at. But all utensils will have high-tech stainless steel blades and some kind of hard timber handle to avoid getting injured while using them.
Dessert Knife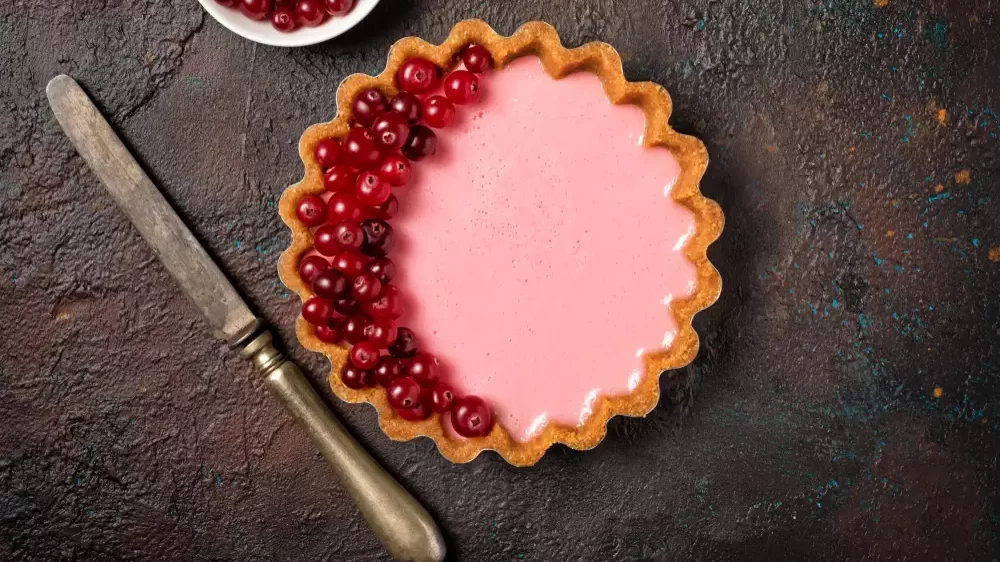 Dessert knives come in all shapes and sizes, but they're, for one thing-to, to enhance your dining experience Some are designed to cut through complex desserts, while others have a more rounded tip that can be used when sectioning off pieces of soft delicacies with ease. 
They may look different on the outside; sometimes, there are even metal handles, so you don't damage napkins or fingers if things get messy (not ideal). But no matter what kind it is – whether its steel made fondue knife or a plastic one – you'll find that dessert knives are the best choice.
Kitchen Shears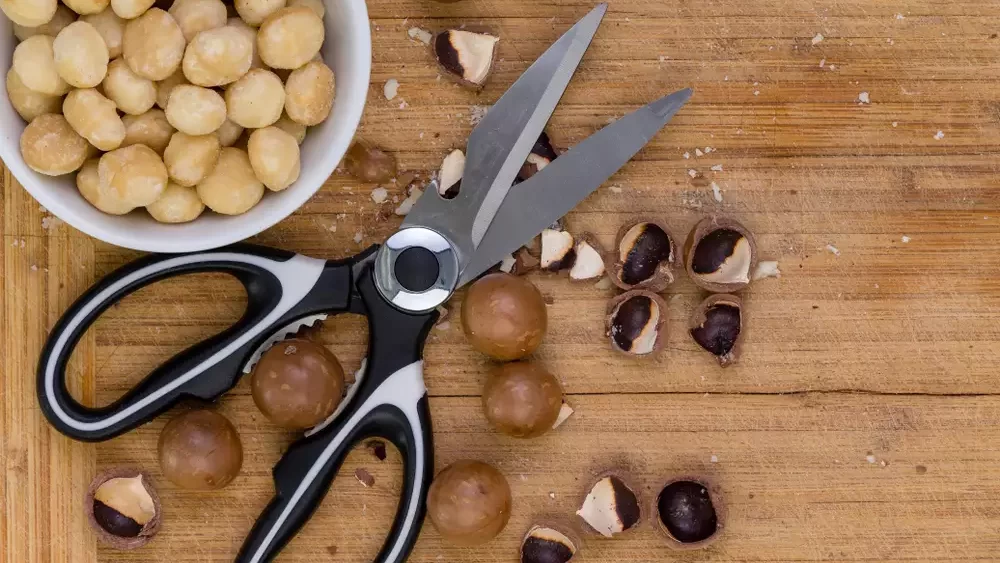 Kitchen shears are a must-have for any home cook. You can use them to cut through packaging and different ingredients or even chop up fresh herbs with ease. Be sure you get some good quality models so they last longer (and look adorable on your countertop too).
My favorite is OXO's Good Grips model because of its accessible cleaning features, but it doesn't forget other great brands like Stanley ban patron
Devein Knife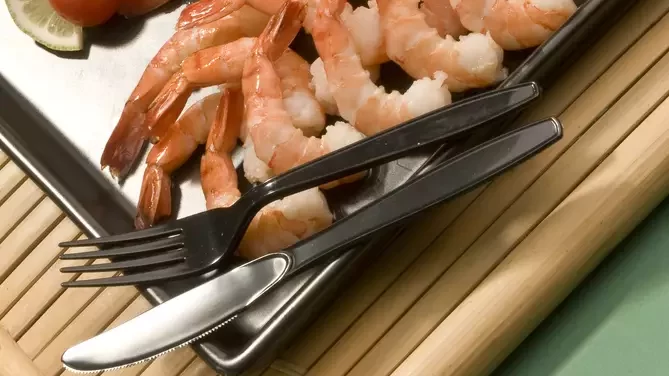 To devein or not to devein, that is the question. If you're looking for a quick and easy way of removing shrimp from their shells, then yes – use an appropriately sized knife with little effort involved. But suppose sophistication meets your needs instead (especially if it's dishwasher safe). 
There are other ways to get what we want from these crustaceans. We can break them open to get what we want, but this takes time and is messy. It is better to take our time and use the right tools to don't damage the food.
Dinner Knife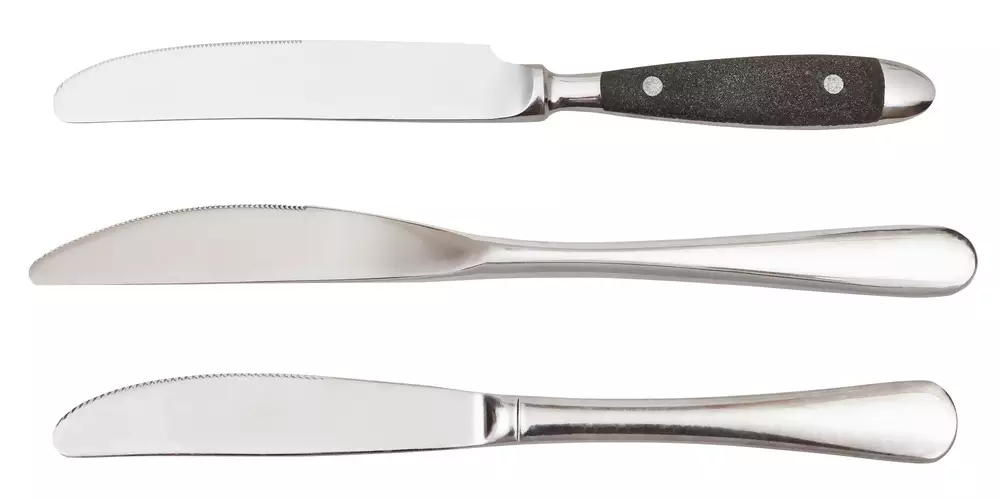 It is essential to have the right tools for your dinner, including an elegant knife. The longest of all flatware knives can be used during informal or formal meals depending on how you want it styled If clean-cut servings are more appealing than digs into food with every bite, then opt-out.
Still, suppose messy looks appeal instead (incredibly when entertaining). In that case, this blade will help push what's being served onto one fork while also cutting off smaller pieces quickly enough, so there is no need to go back through dish after plate looking again.
Frozen Food Knife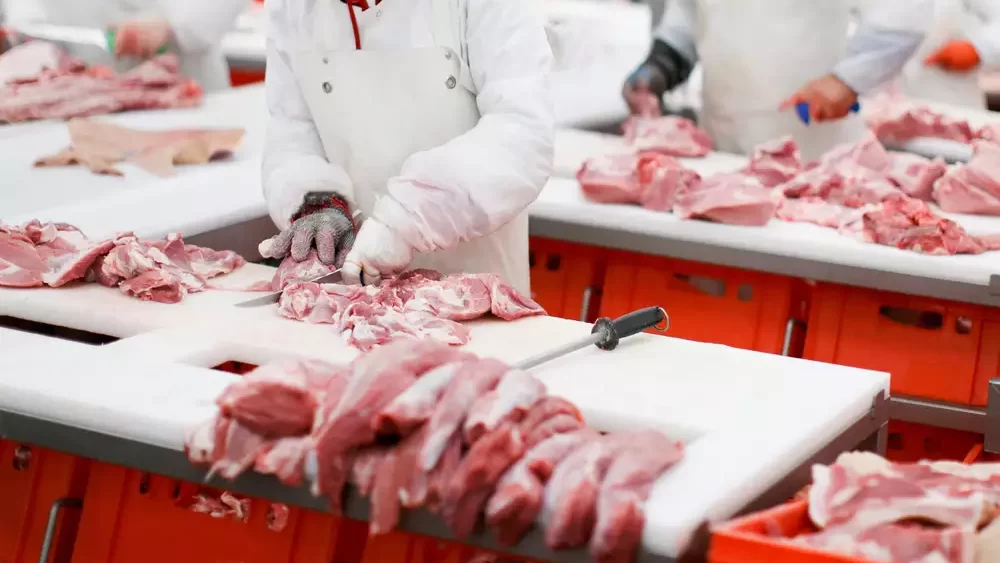 These knives are designed to cut right through frozen food with ease. A coarse, saw-toothed blade often comes on the knife so it can handle whatever your kitchen throws at them – from metal surfaces all way down low in preparation for pea soup 
These blades have been proven to provide better results over time, so don't just buy the first one you see. It's essential to go for solid construction and a blade that will stand the test of time.
Granton Edge Knife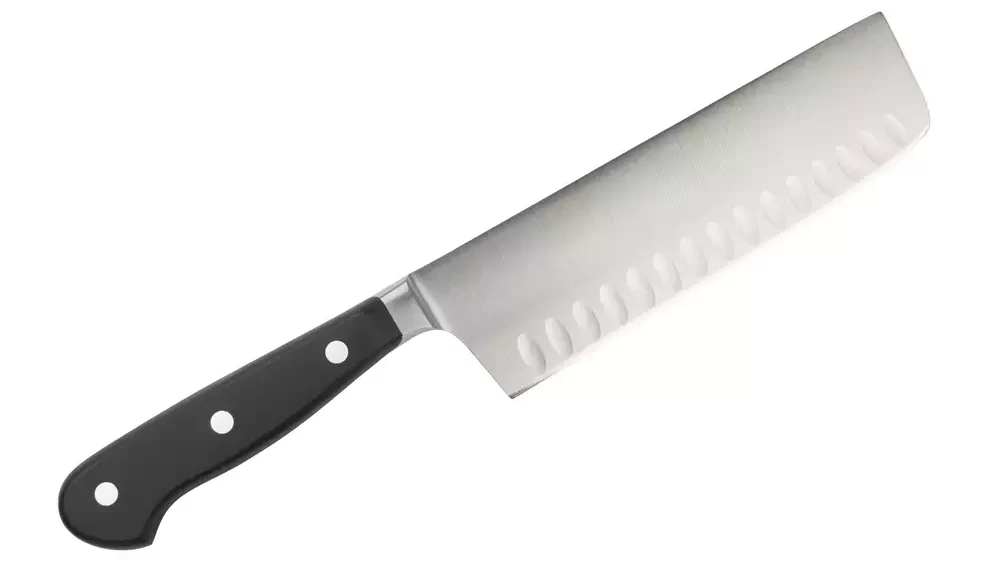 If you're looking to add some flair to your cutting style (or want a fancier knife), then the Granton edge knife is perfect for you. This type of blade has grooves carved into the sides, which help to keep food from sticking and makes slicing a breeze.
They're perfect if you're slicing up meat or vegetables, but they may not be as efficient when chopping through bones.
Peeling Knife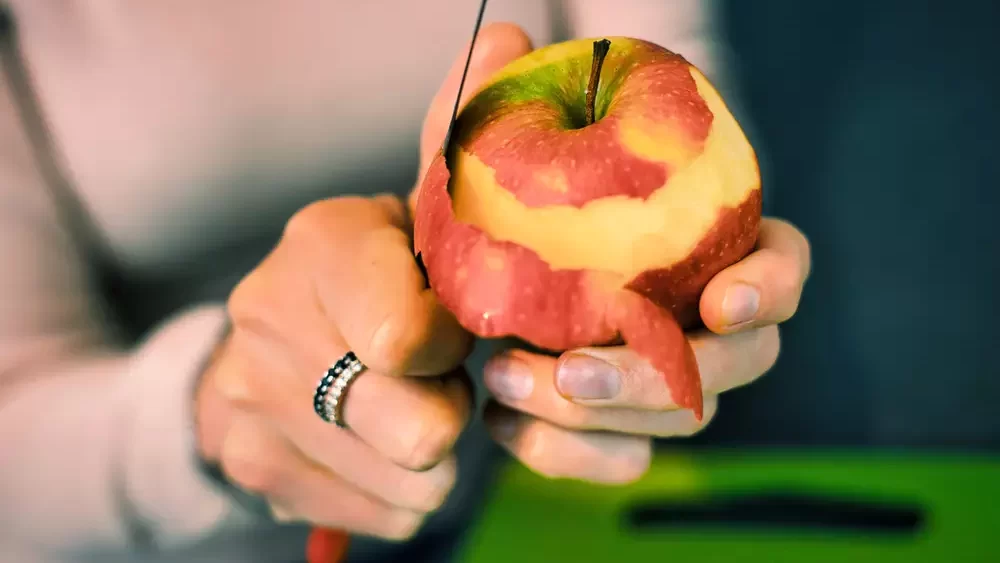 If you like to peel your vegetables and fruits, the peeling knife is a must-have in the kitchen. This type of blade has an offset handle that allows for better control while doing delicate work, so it's easier on your hands during those long hours spent preparing meals.
And since they're smaller than most other knives out there, these blades are perfect for peeling in tight spaces.
Lettuce Knife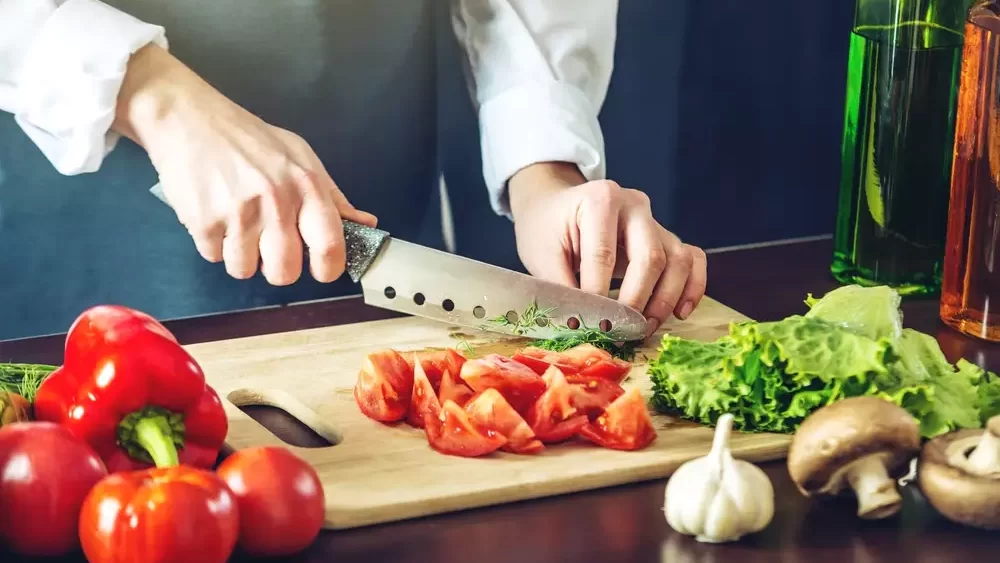 Lettuce knives are always made of plastic to avoid the browning effect that metal can cause when cutting lettuce. These serrated edge blades make it easy and quick for you to slice your favorite veggies without having them turn nasty looking after just one cut.
This type of blade is also great if you need something quick while preparing a meal because they're lightweight, making handling easier too (especially when using only one hand).
Knife Materials and Construction
Stainless steel
Stainless steel is a popular choice for kitchen knives due to its resistance to rust and corrosion, as well as its relatively low maintenance. However, it may require more frequent sharpening compared to other materials.
Carbon steel
Carbon steel knives are known for their sharpness and edge retention, but they require more maintenance to prevent rust and discoloration. They are favored by professional chefs for their performance and precision.
Ceramic
Ceramic knives are lightweight, extremely sharp, and resistant to rust and corrosion. However, they can be brittle and prone to chipping, and they require special sharpening tools.
Damascus steel
Damascus steel knives are known for their beautiful patterns and excellent edge retention. They are made by layering and folding different types of steel, resulting in a strong, sharp, and durable blade.
High-carbon stainless steel
High-carbon stainless steel knives combine the benefits of carbon steel and stainless steel, offering excellent sharpness, edge retention, and resistance to rust and corrosion.
How to Care for Your Kitchen Knives
Cleaning
To maintain your knives' performance and longevity, clean them by hand with warm soapy water and a soft sponge immediately after use. Avoid using abrasive cleaners and putting knives in the dishwasher, as these practices can damage the blade and handle.
Sharpening
Regularly sharpen your knives using a sharpening stone, honing rod, or knife sharpener to maintain their cutting performance. Learn the proper sharpening technique for your specific type of knife and sharpening tool to ensure optimal results.
Storing
Store your knives in a knife block, on a magnetic strip, or in protective sheaths to protect their blades and prevent accidents. Avoid storing knives loosely in a drawer, as this can lead to dulling, chipping, and potential injury.
Frequently Asked Questions (FAQs)
How often should I sharpen my kitchen knives?
The frequency of sharpening depends on the knife material, usage, and your personal preference. Generally, you should sharpen your knives when you notice a decrease in performance or when they no longer cut as smoothly and efficiently as before.
What is the difference between honing and sharpening?
Honing involves realigning the edge of the blade using a honing rod, while sharpening removes material from the blade to create a new, sharp edge. Honing is a maintenance process done more frequently than sharpening to maintain the knife's cutting performance.
Is it better to invest in a knife set or individual knives?
It depends on your needs and preferences. A knife set may provide a convenient, cost-effective solution if you need multiple types of knives. However, purchasing individual knives allows you to choose the specific types, materials, and brands that best suit your needs and preferences.
Conclusion
Understanding the different types of kitchen knives, their uses, and the materials they are made from is essential in choosing the right knife for your culinary needs. Investing in quality knives and maintaining them properly will not only elevate your cooking skills but also ensure their durability and performance for years to come.
Remember, the perfect knife can make all the difference in your cooking experience, so take your time to explore your options and find the best fit for your needs. With the right set of kitchen knives, you'll be well on your way to creating delicious and beautifully prepared dishes in no time.