A trusty blade, a loyal companion – the Schrade Uncle Henry Knife has been a revered tool for hunters, campers, and outdoor enthusiasts alike. 
With a rich history and an array of models to choose from, these knives have earned a special place in the hearts of many. 
This story of the Schrade Uncle Henry Knife unfolds as we take a deep dive into its origins, quality, and features that make it a timeless classic.
A Brief History of Schrade Cutlery Company
Schrade's Beginnings
The Schrade Cutlery Company was established in 1904 by George Schrade, an inventor and entrepreneur. 
With the introduction of the Schrade Safety Pushbutton Knife, the company gained popularity for its innovative design, which led to the expansion of their product line.
The Birth of Uncle Henry
In the 1960s, Schrade introduced the Uncle Henry line of knives, named after Henry Baer, the president of Schrade's parent company, Imperial Knife Associated Companies. 
This line focused on traditional pocket knives and fixed blade hunting knives, which soon became sought after by collectors and outdoorsmen.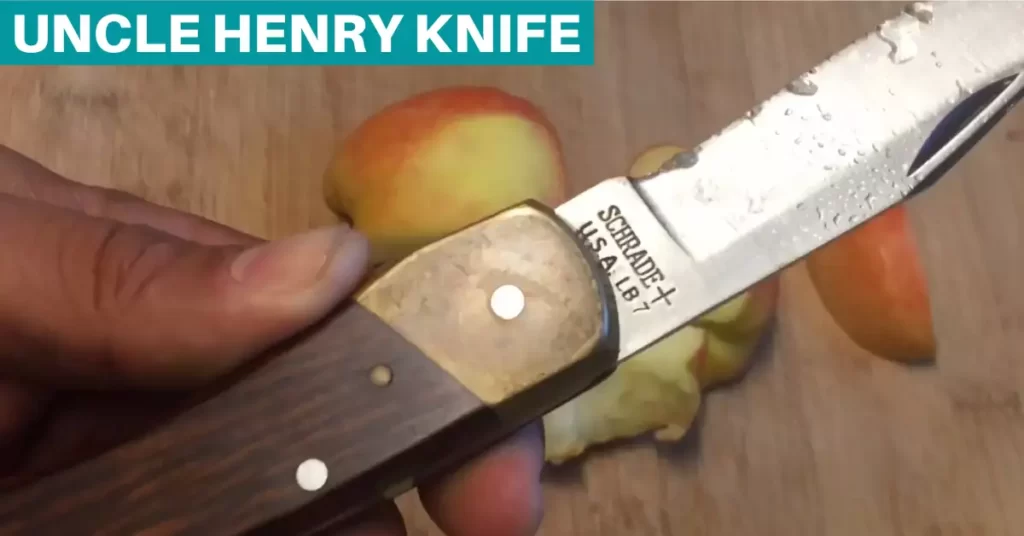 The Features of Schrade Uncle Henry Knives
Quality Materials and Craftsmanship
Uncle Henry knives are known for their high-quality materials, including high carbon stainless steel blades and durable handle materials like Delrin, Staglon, and wood. 
These knives are built to withstand the test of time and are often passed down through generations.
Variety of Models
The Uncle Henry line offers a range of knife designs, including folding knives, fixed blade hunting knives, and fillet knives. Popular models include the Golden Spike, the Senior Rancher, and the Bear Paw.
Timeless Design
With their brass bolsters, nickel silver inlays, and intricate scrollwork, Uncle Henry knives exude a classic elegance that appeals to both collectors and users.
Maintenance and Care for Your Schrade Uncle Henry Knife
Cleaning and Lubrication
To maintain the longevity of your knife, clean it regularly and apply a light coat of oil to the blade and pivot points.
Sharpening
To keep your Uncle Henry knife sharp, use a sharpening stone, ceramic rod, or a knife sharpener designed specifically for high carbon stainless steel blades.
Comparing Schrade Uncle Henry Knives to Other Brands
Price Range
Uncle Henry knives typically fall within a moderate price range, making them an affordable option for those who value quality and craftsmanship.
Reputation
Schrade's reputation for producing reliable, well-crafted knives has helped the Uncle Henry line maintain its appeal among knife enthusiasts.
Frequently Asked Questions
Are Schrade Uncle Henry Knives still made in the USA?
While Schrade Cutlery Company was originally based in the USA, the brand was acquired by Taylor Brands LLC in 2004, and production was moved overseas. However, the quality and craftsmanship of the knives remain consistent with the original designs.
Are Uncle Henry Knives collectible?
Yes, Uncle Henry knives are considered collectible due to their historical significance, classic designs, and high-quality materials. Older models, particularly those made in the USA, are especially sought after by collectors.
How can I identify the age of my Uncle Henry Knife?
To determine the age of your knife, look for a tang stamp on the blade, which may indicate the production year or provide a model number. Additionally, consult collector guides and online forums for more information.
Conclusion
The Schrade Uncle Henry Knife has undoubtedly stood the test of time, offering a combination of quality, craftsmanship, and timeless design. 
With over a century of experience in making knives, Uncle Henry has established itself as a reliable and trustworthy brand. 
Although some models may not be suited for heavy-duty use, their pocket knives and hunting knives are highly recommended for their durability and sharpness. 
In summary, if you are in the market for a reliable and stylish knife, Uncle Henry knives are definitely worth considering.