When it comes to kitchen knives, the sheer number of options can be overwhelming. One brand that consistently stands out is Henckels, a company with a storied history and a reputation for producing high-quality knives.
In this article, we'll dive deep into Henckels kitchen knives, exploring their history, types, construction, and more. Ultimately, we'll answer the question: are Henckels kitchen knives any good?
History of Henckels
Henckels is a German brand founded in 1731 by Johann Peter Henckels. With centuries of experience, they have honed their craft, earning a reputation for quality and durability. ]
Today, Henckels is one of the largest and most respected knife manufacturers in the world, offering a wide range of knives to suit various needs and budgets.
Types of Henckels Kitchen Knives
There are several types of Henckels kitchen knives, each designed for specific tasks:
Chef's Knives
Versatile and indispensable, chef's knives are perfect for slicing, dicing, and chopping a variety of ingredients.
Paring Knives
Ideal for precise tasks like peeling, trimming, and mincing small items.
Utility Knives
These medium-sized knives are great for slicing fruits, vegetables, and small cuts of meat.
Bread Knives
With serrated edges, bread knives can easily slice through crusty loaves without crushing the interior.
Santoku Knives
A Japanese-style knife, the Santoku is perfect for slicing, dicing, and chopping with precision.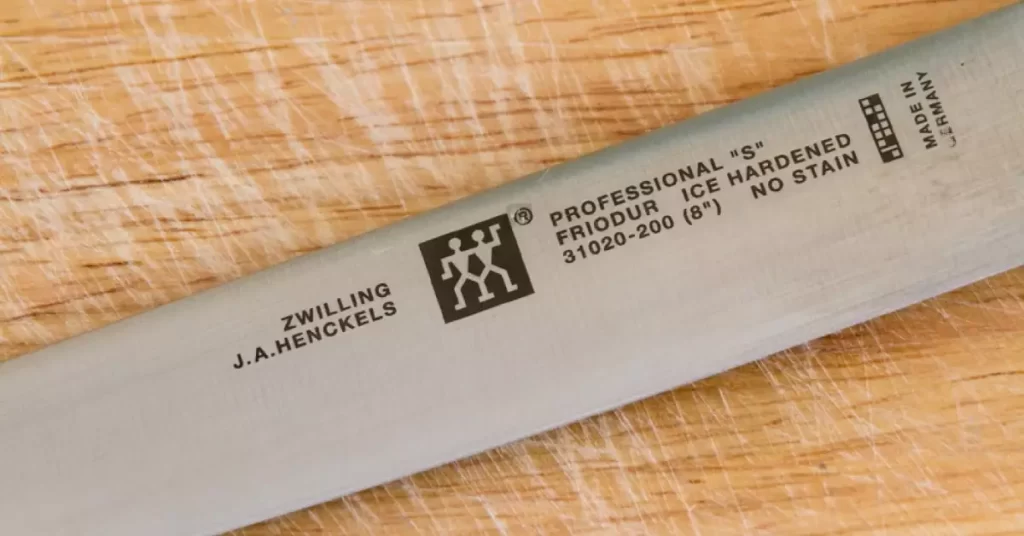 Henckels Knife Collections
Henckels offers several collections to cater to different preferences:
Classic
These knives are forged from high-quality German stainless steel, featuring full tang construction and triple-riveted handles.
Pro
The Pro collection offers an innovative curved bolster for improved comfort, balance, and control.
Four Star
Combining high-quality steel with a comfortable molded handle, the Four Star line is a popular choice.
Twin Signature
The Twin Signature series features stamped blades for a lighter feel, making them an affordable option for home cooks.
Materials and Construction
Blade Material
Henckels knives are made from high-quality German stainless steel, which offers excellent sharpness and edge retention.
Handle Material
Handles vary by collection, but common materials include polypropylene and synthetic materials designed for comfort and durability.
Sharpness and Edge Retention
Henckels knives are known for their sharpness and edge retention, thanks to the precision-honed blades made from high-quality German stainless steel.
The knives are designed to maintain their sharpness even with regular use, although occasional honing and sharpening are recommended.
Cleaning and Maintenance
Henckels knives are relatively easy to maintain. Hand-washing is recommended to protect the blade and handle, followed by immediate drying to prevent rust or damage.
Regular honing will help maintain the edge, while professional sharpening should be done as needed to ensure optimal performance.
Price and Value
Henckels offers a wide range of price points, catering to various budgets. While some collections, like the Classic and Pro series, may be more expensive, their quality and durability justify the investment.
For those on a tighter budget, the Twin Signature line offers a more affordable option without sacrificing performance.
Alternatives to Consider
While Henckels knives are highly regarded, there are other brands worth considering:
Wüsthof: Another renowned German brand, Wüsthof offers knives with similar quality and craftsmanship.
Victorinox: Known for their Swiss Army knives, Victorinox also produces high-quality kitchen knives at a more affordable price point.
Global: A Japanese brand, Global knives are known for their lightweight construction and sharp edges.
FAQs
Are Henckels knives dishwasher safe?
While some Henckels knives are technically dishwasher safe, hand-washing is highly recommended to preserve the blade's sharpness and protect the handle.
How often should I sharpen my Henckels knives?
The frequency of sharpening depends on usage. Regular honing with a honing steel can help maintain the edge, but professional sharpening should be done as needed, typically once or twice a year.
Where are Henckels knives made?
Most Henckels knives are made in Solingen, Germany, although some lines, like the Twin Signature series, are produced in other locations, such as Spain.
Conclusion
Henckels kitchen knives have a well-deserved reputation for quality, performance, and durability. With a wide range of options to suit various needs and budgets, Henckels knives are a worthwhile investment for both amateur and professional cooks alike.
By choosing the right collection and properly caring for your knives, you can enjoy years of precise, effortless cutting in the kitchen.