Bear and Son Cutlery is a renowned American knife manufacturing company, well-known for their exceptional craftsmanship and attention to detail. With a wide variety of knives suitable for all purposes, it is no wonder that this family-owned business has made a mark in the knife-making industry. As a customer, it is important to understand the intricacies of the products you are considering to make an informed decision.
In this comprehensive review, we will delve into the history, popular models, design aspects, user experiences, and maintenance of Bear and Son knives. This in-depth analysis aims to provide an accurate understanding of their products and help you decide if these knives are the right fit for you.
With that said, let's dive into the world of Bear and Son knives and explore the company's dedication to quality, their offerings, and what makes them stand out in the cutlery market.
History and Background of Bear and Son Cutlery
Company inception and founders
Bear and Son Cutlery was founded in 1991 by Ken Griffey and his two sons, Ken Jr. and Matt. Their passion for creating high-quality knives led them to establish their manufacturing facility in Jacksonville, Alabama. The family's commitment to American-made products and traditional knife-making techniques has remained a cornerstone of their business ever since.
Manufacturing process and materials
Bear and Son knives are made entirely in-house, which allows the company to maintain strict control over the quality of their products. The manufacturing process involves a combination of modern technology and traditional methods such as hand assembly and finishing. Each knife undergoes a rigorous inspection to ensure it meets the highest quality standards.
The company sources only the finest materials for their knives, including high-carbon stainless steel, Damascus steel, and various handle materials such as wood, bone, and G10. This focus on quality materials guarantees a durable and reliable end product.
Commitment to quality and craftsmanship
Bear and Son Cutlery takes pride in their commitment to craftsmanship. Their skilled artisans pay meticulous attention to every detail of the knife-making process, ensuring each product is both functional and aesthetically pleasing. This dedication to quality is evident in the company's lifetime warranty and excellent customer service.
Popular Bear and Son Knife Models
Butterfly Knives
Bear Song IV
The Bear Song IV butterfly knife is an excellent option for enthusiasts and collectors. It features a 4.375-inch blade made from 1095 carbon steel, providing excellent edge retention and corrosion resistance. The handles are made from T6 aluminum, offering a lightweight yet sturdy grip.
Bear Song VII
The Bear Song VII is another popular butterfly knife in the Bear and Son lineup. It has a slightly shorter 4.25-inch blade made from 440 stainless steel, known for its versatility and durability. The handles are made from G10, providing a comfortable grip and added durability.
Folding Knives
Bear Edge
The Bear Edge folding knife series offers a variety of designs and blade styles to cater to different users' needs. Common features include a 440 stainless steel blade, assisted opening mechanism, and a pocket clip for easy carry. The Bear Edge knives are versatile, making them perfect for everyday use, outdoor activities, or even tactical situations.
Bear Ops
The Bear Ops folding knives are designed with professionals in mind, offering high-quality materials and construction. With options like S30V and CPM-S35VN steel blades, these knives are built to withstand heavy use and harsh environments. The G10 or aluminum handles provide a secure grip and added durability, making the Bear Ops series ideal for law enforcement, military, and first responders.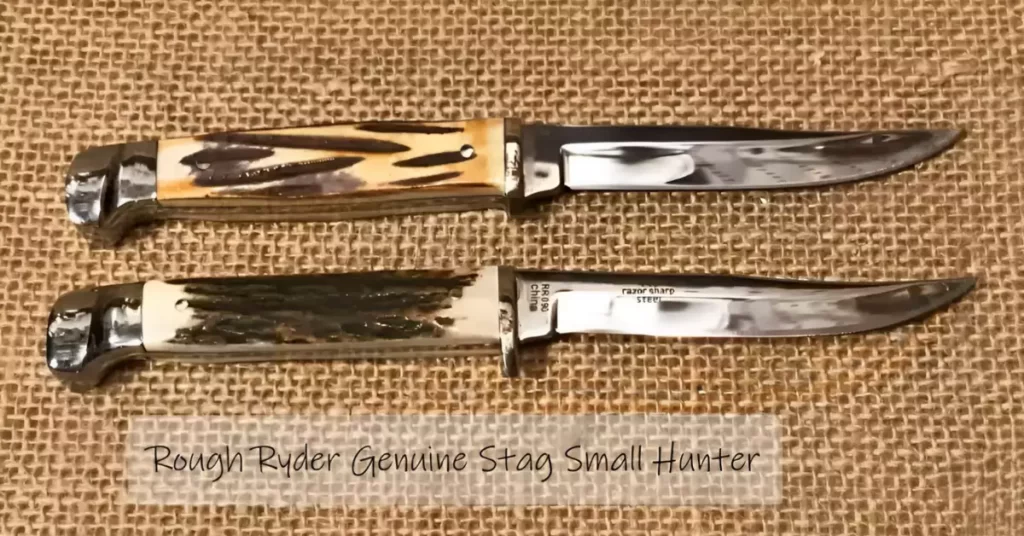 Fixed Blade Knives
Bear Cub
The Bear Cub is a compact fixed blade knife designed for everyday carry and outdoor activities. It features a 2.75-inch blade made from high carbon stainless steel, ensuring excellent edge retention and corrosion resistance. The full tang construction provides added strength and durability, while the genuine India stag bone handle offers a comfortable grip and a touch of elegance.
Bear Hunter
The Bear Hunter is a versatile fixed blade knife suitable for hunting, camping, and general outdoor use. It boasts a 5-inch stainless steel blade with a drop point design, offering excellent cutting performance and durability. The handle is made from Kraton, a synthetic rubber material that provides a comfortable and slip-resistant grip.
Detailed Knife Analysis
Design and ergonomics
Bear and Son knives are designed with both functionality and user comfort in mind. The ergonomics of each knife are carefully considered to ensure a comfortable grip and easy handling, regardless of the user's hand size or intended use. The company's folding knives often feature ambidextrous thumb studs and pocket clips, while their fixed blade knives come with well-designed sheaths for secure storage and carry.
Blade materials and sharpness
Bear and Son Cutlery uses a variety of high-quality blade materials, including 1095 carbon steel, 440 stainless steel, S30V, and CPM-S35VN. These materials offer excellent edge retention, corrosion resistance, and durability, ensuring that your knife stays sharp and reliable even under heavy use.
Handle materials and grip
The company utilizes various handle materials to cater to different preferences and needs. Options include wood, bone, G10, T6 aluminum, and Kraton, each providing unique benefits in terms of aesthetics, grip, and durability. The handle designs are carefully crafted to provide a secure and comfortable grip during use.
Locking mechanisms and safety
Bear and Son folding knives employ different locking mechanisms, such as liner locks, lockbacks, and frame locks. These mechanisms ensure that the blade stays securely in place during use, preventing accidental closures and potential injuries. The butterfly knives, in particular, feature a latch lock system to keep the handles securely closed during storage or transport.
User Insights and Testimonials
Positive experiences and satisfaction
Many users praise Bear and Son knives for their quality, durability, and sharpness. The attention to detail and craftsmanship is often mentioned in reviews, with users appreciating the company's commitment to producing high-quality, American-made products.
Constructive criticism and room for improvement
Some users have reported minor issues with certain models, such as difficulty with the opening mechanism or minor blade play. However, these concerns are generally rare and can often be addressed by the company's customer service or through proper maintenance.
Comparison to other knife brands
When compared to other knife brands, Bear and Son knives offer a competitive edge in terms of quality, design, and value for money. While they may not be the cheapest option on the market, their commitment to craftsmanship and use of high-quality materials make them a solid investment for those seeking a reliable and well-crafted knife.
Maintenance and Care
Proper cleaning techniques
To keep your Bear and Son knife in optimal condition, it is essential to clean it regularly, especially after use in harsh environments or with corrosive materials. Use a soft cloth or sponge with mild soap and water to clean the blade and handle. Dry the knife thoroughly to prevent rust and corrosion.
Sharpening and honing
Maintaining a sharp edge on your knife is crucial for optimal performance. Use a sharpening stone or a knife sharpener designed for your specific blade material to hone the edge. Follow the manufacturer's instructions for the proper sharpening angle and technique to ensure a razor-sharp edge.
Storage and safety tips
Proper storage is essential to keep your knife in good condition and ensure its longevity. For folding knives, ensure the blade is closed and secured before storing it. Fixed blade knives should be stored in their sheaths to protect the blade from damage and prevent accidents. Keep your knives in a dry and cool place, away from humidity or extreme temperatures.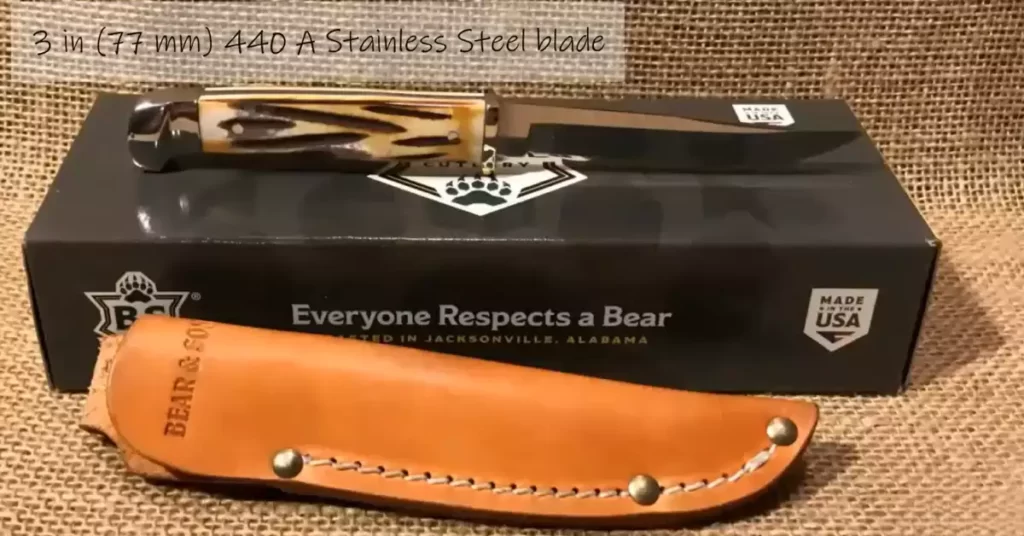 Pricing and Availability
Price range and value for money
Bear and Son knives cater to a wide range of budgets, with prices varying depending on the model, materials, and design. While their knives may not be the most affordable option on the market, the quality, craftsmanship, and durability of their products make them a worthwhile investment.
Authorized dealers and online platforms
Bear and Son knives can be purchased through authorized dealers and various online platforms, including the company's official website and popular e-commerce sites like Amazon, BladeHQ, and KnifeCenter. It is essential to buy from reputable sources to ensure the authenticity and quality of your purchase.
Warranty and customer service
Bear and Son Cutlery offers a lifetime warranty on their knives, covering any defects in materials or workmanship. This warranty reflects the company's confidence in their products and commitment to customer satisfaction. In addition, their customer service team is known for being responsive and helpful, ensuring any issues or concerns are addressed promptly.
FAQs
Are Bear and Son knives made in the USA?
Yes, Bear and Son knives are proudly made in the USA. The company manufactures all their knives in-house at their facility in Jacksonville, Alabama.
How do I sharpen my Bear and Son knife?
To sharpen your Bear and Son knife, use a sharpening stone or a knife sharpener specifically designed for the blade material. Follow the manufacturer's instructions for the correct sharpening angle and technique to maintain a razor-sharp edge.
Can I disassemble my Bear and Son knife for cleaning and maintenance?
While it is possible to disassemble some Bear and Son knives for cleaning and maintenance, it is not recommended unless you are experienced in knife disassembly and reassembly. Improper disassembly or reassembly can damage the knife or void the warranty.
Conclusion
In this Bear and Son knives review, we have explored the company's history, popular models, design aspects, user experiences, and maintenance. With a commitment to quality materials, craftsmanship, and customer satisfaction, it is clear that Bear and Son Cutlery offers exceptional knives for a wide range of users and purposes.
Whether you are a knife enthusiast, collector, or simply looking for a reliable tool for everyday use, Bear and Son knives are a worthy consideration. With proper care and maintenance, these knives will undoubtedly serve you well for years to come. So, explore their diverse offerings and find the perfect knife that suits your needs and preferences.