The sound of a knife blade clicking into place, the comforting weight in your hand, and the knowledge that you possess a tool capable of handling various tasks with precision and ease.
This is the experience of owning a CRKT (Columbia River Knife & Tool) knife. 
But have you ever wondered where these reliable tools originate and what makes them so popular among knife enthusiasts? 
Let's dive into the world of CRKT knives and find out what sets them apart from the competition.
CRKT: The Company Behind the Knives
CRKT was founded in 1994 by Rod Bremer and Paul Gillespie, two former employees of Kershaw Knives. Headquartered in Tualatin, Oregon, the company quickly gained a reputation for innovation, quality, and customer satisfaction. 
CRKT has become a global brand, offering a wide range of products, including folding knives, fixed blade knives, and tools designed to make life easier for outdoor enthusiasts and professionals alike.
Where CRKT Knives Are Made
CRKT knives are manufactured in Taiwan and China, with some high-end and limited-edition models being produced in the United States. 
By leveraging overseas production, CRKT can maintain competitive pricing while still providing top-quality materials and construction. 
Additionally, CRKT collaborates with renowned knife designers worldwide, ensuring that their knives are not only well-crafted but also feature innovative designs that make them stand out in the market.
CRKT Knife Series
CRKT offers a diverse range of knives, catering to various needs and preferences. Some popular CRKT knife series include:
M16 Series
Designed by the legendary Kit Carson, these tactical folding knives are highly versatile and feature the Carson Flipper for quick deployment.
Minimalist Series
Designed by Alan Folts, these compact fixed blade knives are perfect for everyday carry and boast a unique, ergonomic handle.
Ripple Series
Designed by Ken Onion, the Ripple series showcases distinctive styling, the IKBS ball-bearing pivot system for smooth opening, and lightweight aluminum handles.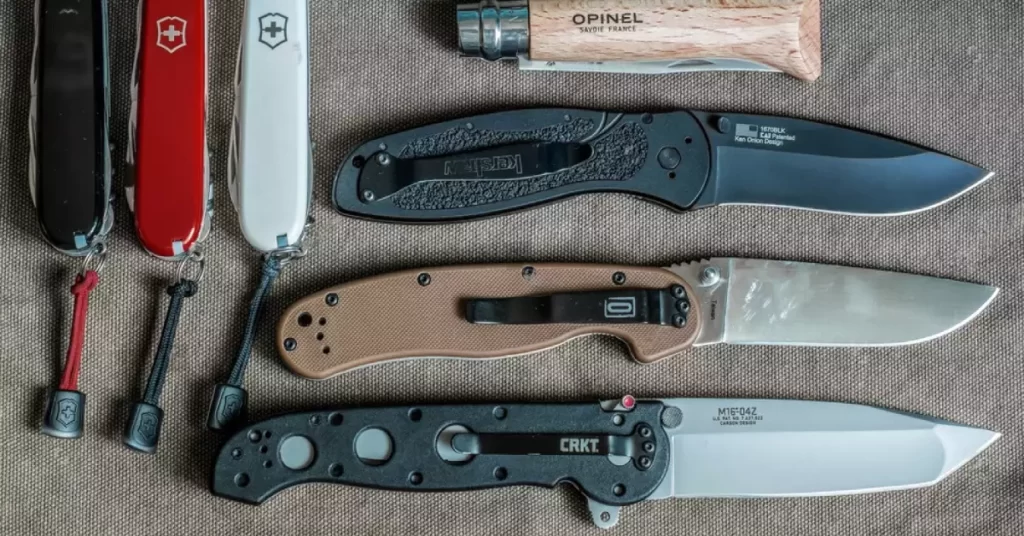 Materials and Manufacturing
CRKT uses a variety of high-quality materials to ensure the durability and performance of its knives. Common blade materials include stainless steel, high carbon steel, and exotic alloys, while handle materials range from G-10 and carbon fiber to aluminum and stainless steel. 
CRKT employs advanced manufacturing techniques, such as CNC machining, laser cutting, and precision heat treatment, to produce knives with exceptional fit, finish, and functionality.
CRKT Knife Designers
Collaboration is at the heart of CRKT's success, with the company partnering with numerous world-class knife designers. 
These collaborations lead to the creation of unique, high-performance knives that blend form and function seamlessly. Some prominent CRKT knife designers include:
Ken Onion
Kit Carson
Lucas Burnley
Jesper Voxnaes
Flavio
Ikoma
These designers bring their expertise, creativity, and passion to the table, ensuring that each CRKT knife is a true work of art with its distinct style and performance characteristics.
Innovation: CRKT's Secret Weapon
Innovation is at the core of CRKT's philosophy, and the company is known for integrating groundbreaking technology and unique features into its knives. Some notable CRKT innovations include:
IKBS™ (Ikoma Korth Bearing System): A smooth, fast opening mechanism that uses ball bearings for reduced friction.
Field Strip Technology: Allows users to disassemble and clean their knife without the need for tools, making maintenance easier than ever.
Deadbolt® Lock: A robust locking mechanism that provides exceptional strength and security while remaining easy to disengage.
These innovations, combined with the expertise of CRKT's design partners, result in knives that stand out from the crowd, both in terms of aesthetics and functionality.
Customer Service and Warranty
CRKT is committed to providing exceptional customer service and stands behind its products with a limited lifetime warranty against defects in materials or workmanship. 
In the event of an issue, the company's knowledgeable customer service team is ready to assist, ensuring that customers receive the support they need.
CRKT Knife Price Range
CRKT offers knives at various price points, making it easy for customers to find a knife that fits their budget without compromising on quality or performance. 
Prices typically range from around $20 for entry-level models to several hundred dollars for high-end, limited edition knives.
How to Choose the Right CRKT Knife for You
CRKT offers a diverse selection of knives, each uniquely tailored to various tasks and demands. This wide range of options can make the decision process seem overwhelming. Here are a few key considerations to help you choose the right CRKT tool:
Usage Context
The first step in choosing the right tool is understanding its primary context of use. This could be for everyday tasks, outdoor activities, or professional-grade needs.
Dimensions
The physical attributes of the tool are crucial. Think about whether a compact, portable option suits your needs or if a larger tool is more appropriate.
Blade Geometry
The shape of the knives blade is an important factor that aligns with specific tasks. For instance, a drop point is a great all-rounder, while a tanto design might be more suitable for tasks requiring precise cuts.
Deployment Design
The ways in which the tool can be readied for use vary. Some have a manual unfolding process, others are equipped with a swift deployment design for instant readiness.
Security Features
Finally, it's important to think about the type of security feature that is the best fit for your preferences and intended usage. Some knives are equipped with a locking mechanism for safe usage and storage.
FAQs
Are CRKT knives good quality?
Yes, CRKT knives are known for their high-quality materials, craftsmanship, and innovative designs. They are a popular choice among knife enthusiasts and professionals alike.
How do I care for my CRKT knife?
To maintain your CRKT knife, clean the blade and handle regularly, lubricate the pivot area, and sharpen the blade as needed. Always store your knife in a dry, cool environment.
Can I carry a CRKT knife legally?
Laws regarding knife carry vary by location. It is essential to familiarize yourself with your local laws and regulations before carrying any knife.
Final Thoughts
CRKT knives are the perfect blend of innovation, quality, and style. With a diverse range of models to choose from, you're sure to find the ideal CRKT knife to meet your needs and preferences. 
By understanding the company's origins, manufacturing processes, and collaborations with top designers, you can fully appreciate the value and performance of your CRKT knife. Happy cutting!