The holidays are a time for giving, and what better way to show your loved ones how much you care than by gifting them a skillet? Equipping their kitchen with beautiful, high-quality tools will surely make them feel special.
A high-quality skillet is not only a practical addition to any kitchen but also a piece of art that adds aesthetic value to the space. It's a tool that will be used often, and every time your loved ones use it, they will remember the thought and care you put into selecting and gifting it to them.
However, simply sending the frypan in its manufacturer's package without proper wrapping and a thoughtful message is not the best way to present your gift. With a little care and attention, you can make your gift look lovely and valuable, just as you intended it to be.
How to Send and Carry a Frying Pan?
Carry your skillet in a secured box or fabric bag (don't wonder, I am going to show how I do that). If you've ever had to move a cast iron frying pan or skillet, you know that it's a little bit to wrap and transport as it has a long handle that exists out of its package.
The good news is that there are some simple tricks that you can use to make sure your pan arrives safely at its destination with a festive look. In this article, I'll show you how to wrap a frying pan or skillet so that it's protected from damage during transit.
Thinking of giving a frying pan to your near one? Check out these awesome pans on an affordable budget. (View on Amazon)
All-Clad Hard Anodized Nonstick Fry Pan
OXO Good Grips Hard Anodized 10″ Frying Pan
EDITOR'S CHOICE
All-Clad Hard Anodized Nonstick Fry Pan
Features high, straight sides to assist with stirring a smaller surface area to hold heat and limit evaporation - perfect for making sauces or heating liquids
HIGH QUALITY PERFORMANCE WITH EVERYDAY CONVENIENCE, HA1 Nonstick heavy gauge aluminum and stainless-steel base deliver consistent, delicious cooking. The high-quality nonstick brings a long-lasting and easy release to cook with less fat.​
DESIGN YOU'LL LOVE with a contoured design for sleek & stylish vessels, a permanently secured grip ensured by the double riveted stainless steel handles, and an easy size identification thanks to capacity markings.
BUDGET PICK
OXO 10" Hard Anodized Frying Pan
Durable, hard-anodized body delivers excellent heat conduction and scratch resistance
Three-layer, German-engineered non-stick coating for years of performance using less oil
Comfortable stainless steel handles
Oven safe up to 430°F/220°C
Rolled edges for drip-free pouring
Dishwasher Safe
Compatible with most stovetops, except induction
Limited lifetime warranty
Here's What You'll Need to Wrap a Frying Pan or Skillet:
To start, you'll need some packing papers, cardboard, scotch tape, scissor, and bubble wrap.  Now follow the process:
Lay out a sheet of packing paper and place the pan in the center. Fold the paper over the top of the pan, making sure to cover the entire surface.

Then, take a piece of bubble wrap and place it over the paper. Use tape to secure the bubble wrap in place.

Next, you'll need to create a makeshift box for the pan. You can still use the box you received during the purchase. However, to make a customized, cut two pieces of cardboard to match the width and length of the pan. Place one piece of cardboard on top of the other and tape them together. Then, place the pan inside the box and close it up.

Finally, label the box with your name and contact information. This will help ensure that your pan makes it back to you if it gets lost during transit. With these simple steps, you can rest assured that your frying pan will arrive safe and sound at its new home.
How Do You Gift Wrap a Frying Pan or Skillet?
Here are a few tips to help you avoid the common mistakes people make when wrapping a skillet:
First, make sure the skillet is clean and dry before you start wrapping. Otherwise, you'll end up with a messy, wet mess. 

Second, don't forget to use padding. A layer of bubble wrap or foam will help protect the surface of the skillet and prevent it from being scratched or dented.

Third, be sure to use plenty of tapes, as you want your beautiful gift to come undone at the worst possible moment.
Just follow these simple tips and your Gift wrapped skillet will be sure to please even the pickiest of recipients.
As a recommendation, I prefer to use Bubble Cushioning Wrap and Scotch Packaging Tape (View on Amazon).
Step-1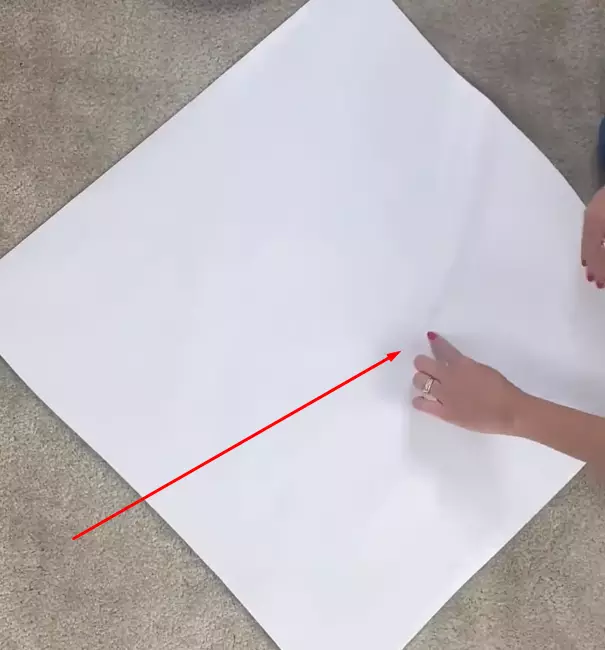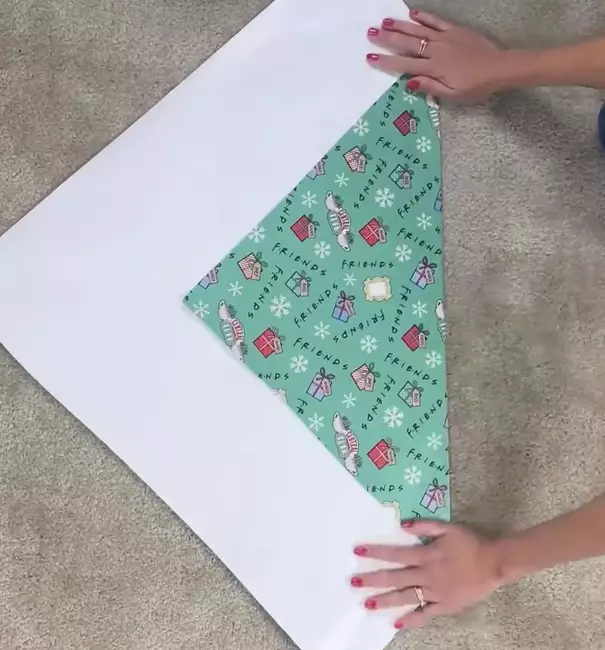 Step-2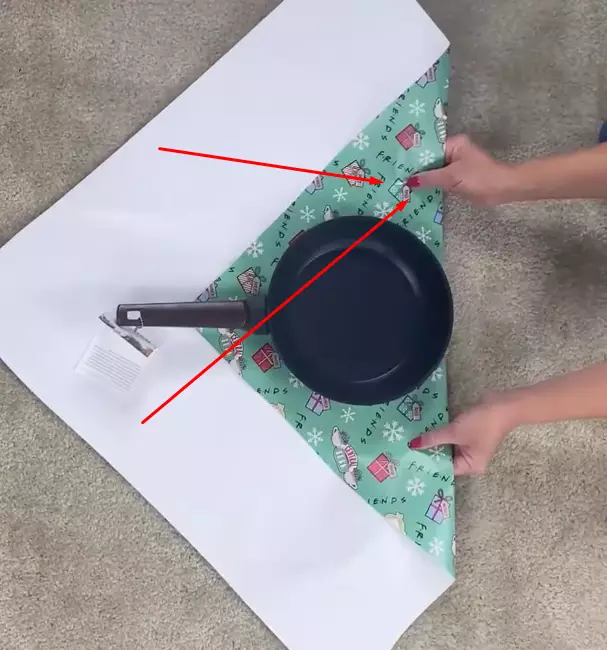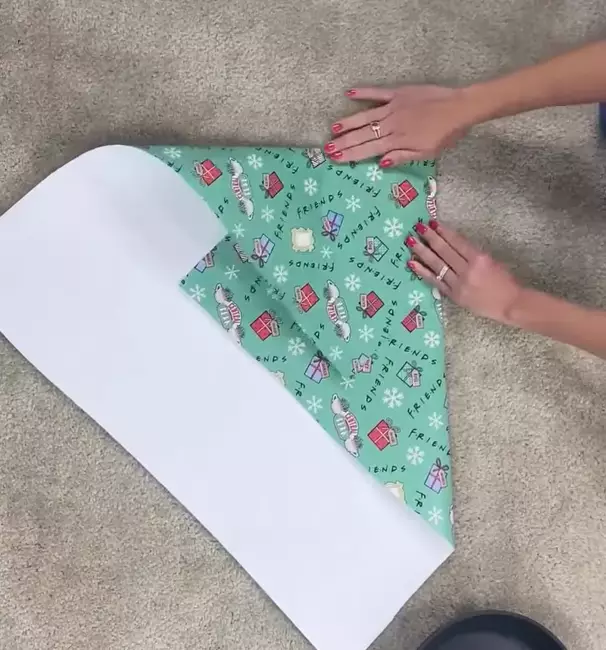 Step-3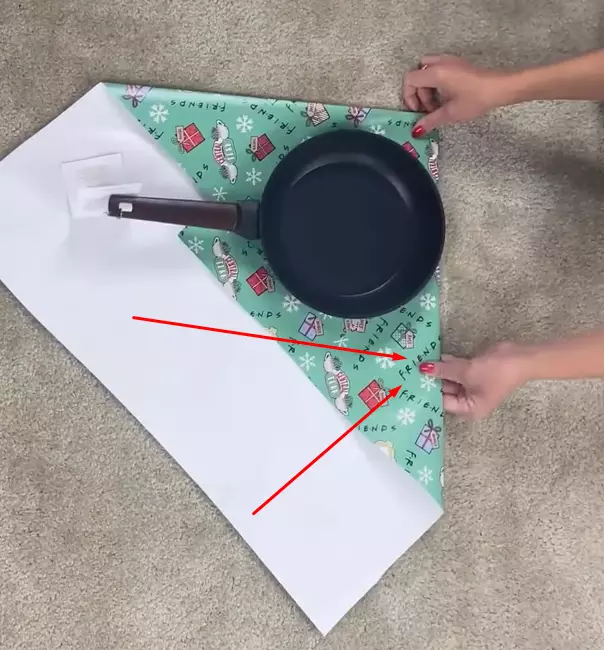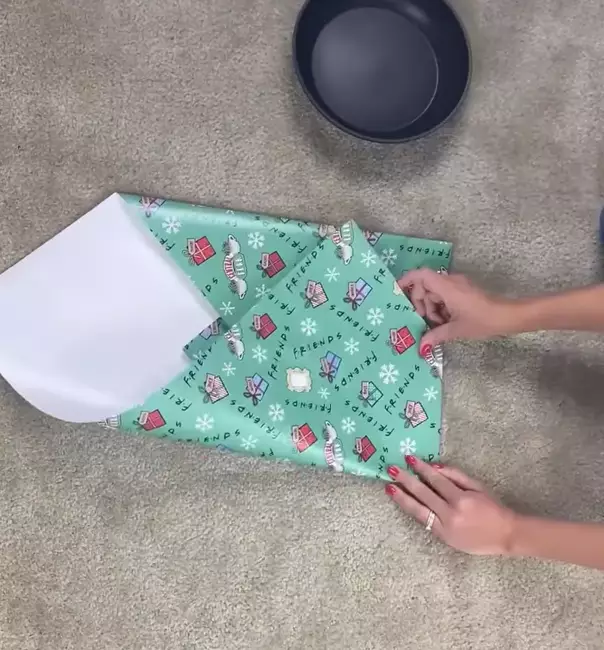 Step-4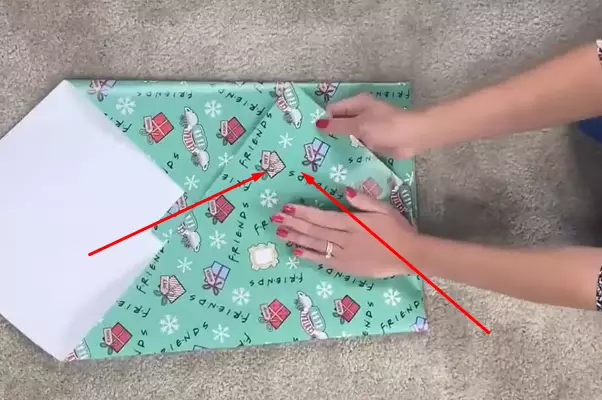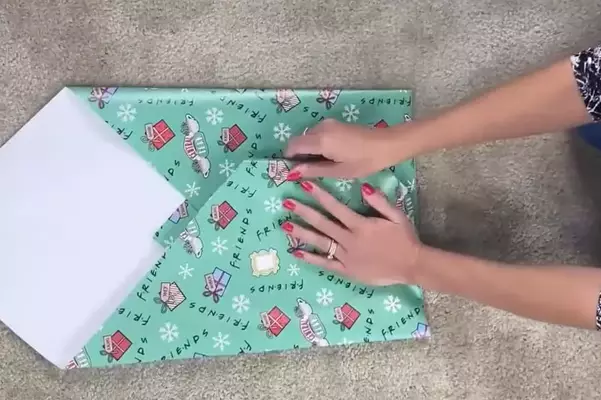 Step-5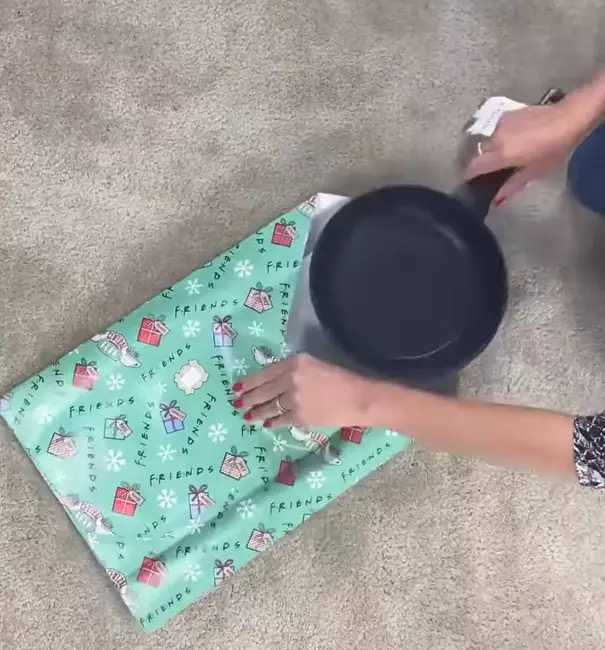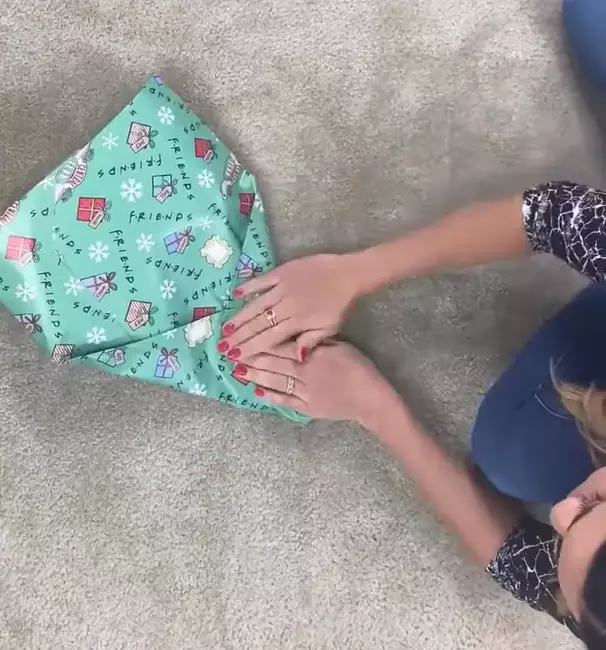 How to Gift Wrap Pots and Pans
No matter what the occasion, pots, and pans are always a welcome gift. But it needs a little trick to wrap that cookware to keep them safe and unscratched while transporting, but with a little effort, it's easy to do than it seems.
First, it's important to choose the right size box. You'll need something that is large enough to accommodate the pot or pan, but not so large that it will be difficult to wrap, leaving much blank space. Use any old packaging boxes.

Next, take a few minutes to cushion the bottom of the box with crumpled newspaper or packing peanuts. This will help to protect the cookware from scratches and bumps during transit.

Once the box is properly prepared, you can begin wrapping it in wrapping paper. It's best to use paper that is fairly thick and strong, as thinner papers may tear under the weight of the cookware.

Now, while wrapping, be sure to smooth out any wrinkles or creases so that the finished product looks professional.

Finally, add a bow or ribbon to complete the look.
I believe that these simple tips give you an easy idea to wrap any pot or pan with comfort.
As a recommendation, I prefer to use Cardboard Sheets and Uboxes Packing Peanuts (View on Amazon).
How to Wrap a Cast Iron Skillet With Gorgeous Fabrics
If you're looking for a unique and thoughtful present for your friends and loved ones, why not try giving a pan wrapped in fabric? It gives your gift a totally different look.
So, using fabrics, how to pack cast iron pans for moving? Don't think that it's heavy to follow the steps, they are simple and the results are sure to please.
First, choose a fabric that is large enough to wrap around the pan and that has festive colors or patterns.

Next, cut a length of string or ribbon that is twice the size of the pan.

Center the pan on the fabric and fold up one side, then tie the string around it to secure it. Continue wrapping and tying until the entire pan is covered.

Finally, add a bow or other decoration to finish off the package.
So, with just a little time and effort, you can create a beautiful and personalized gift that anyone will appreciate. So get creative and start wrapping with fabric!
How to Wrap a Wok Pan
Kitchenware like woks, having deep round-bottomed, come in all shapes and sizes. Due to their round or oval bottom shape, when it comes to storage, this can pose a bit of a problem.
Unlike the widely common frying pans, the woks are notoriously difficult to stack, and if you don't have a lot of counter space, you might be wondering how to wrap a wok pan for storage.
Fortunately, there are a few different methods I follow that you can use.
One option is to use paper towels or kitchen towels. Simply place the wok upside down on the towel and fold the edges up around the pan. This will help to protect it from scratches and dents.
You can also use plastic wrap or aluminum foil. If you're using plastic wrap, try to use multiple layers so that it doesn't tear.
And with aluminum foil, make sure that it's not too tight so that it doesn't dent the wok. Whichever method you choose, wrapping your wok pan will help to keep it in good condition for years to come.
How to Gift Wrap a Casserole Dish
If you're looking for a unique and thoughtful way to wrap a casserole dish, look no further! Here's a step-by-step guide on how to do it: 1. Gather your materials.
You'll need a casserole dish, some wrapping paper, tape, and a ribbon or string.

Cut a piece of wrapping paper that's big enough to wrap around the dish.

Place the dish in the center of the wrapping paper.

Fold the paper up and over the dish, using tape to secure it in place. 5. Tie a ribbon or string around the dish, and you're all done! Your friends and family will love this thoughtful and unique gift, and you'll be the hero for making their gift-giving experience so easy.
The PlandRichW Wrapping Paper can be a good choice. (View on Amazon)
COLORFUL PICK
PlandRichW Wrapping Paper
BIRTHDAY DESIGN: Birthday wrapping paper contains "Happy Birthday" text,mluticolor star,Colorful triangle pattern, Celebration Fruits Cake.Make your gift even more beautiful.
12 SHEETS OF WRAPPING PAPER: Each wrapping paper measures 20 inches wide by 29 inch long.you can wrap at least 12 different sizes of birthday gifts to meet your needs for gift wrapping supplies.
USE ALL OCCASION:The 4 different colorful designs are perfect for birthdays, parties, and gift wrapping. It's also great for craft project decorations, wrap gifts in lovely printed paper and add vitality to your gifts
PREMIUM QUALITY: Bright colored, our high-quality wrapping paper is thick and durable, has a glossy surface, does not tear or break easily, and is recyclable and environmentally friendly.
Final Thoughts
In summary, learning how to properly wrap a frying pan or skillet is a valuable skill for anyone who wants to keep their cookware in good condition and prevent damage during storage or transportation.
By following the simple steps outlined in this article, you can easily wrap your frying pan or skillet with materials you likely already have at home.
Whether you're moving to a new home, packing for a camping trip, or just need to store your cookware safely, taking the time to wrap your frying pan or skillet can save you a lot of hassle and ensure that your cookware stays in excellent condition for years to come.